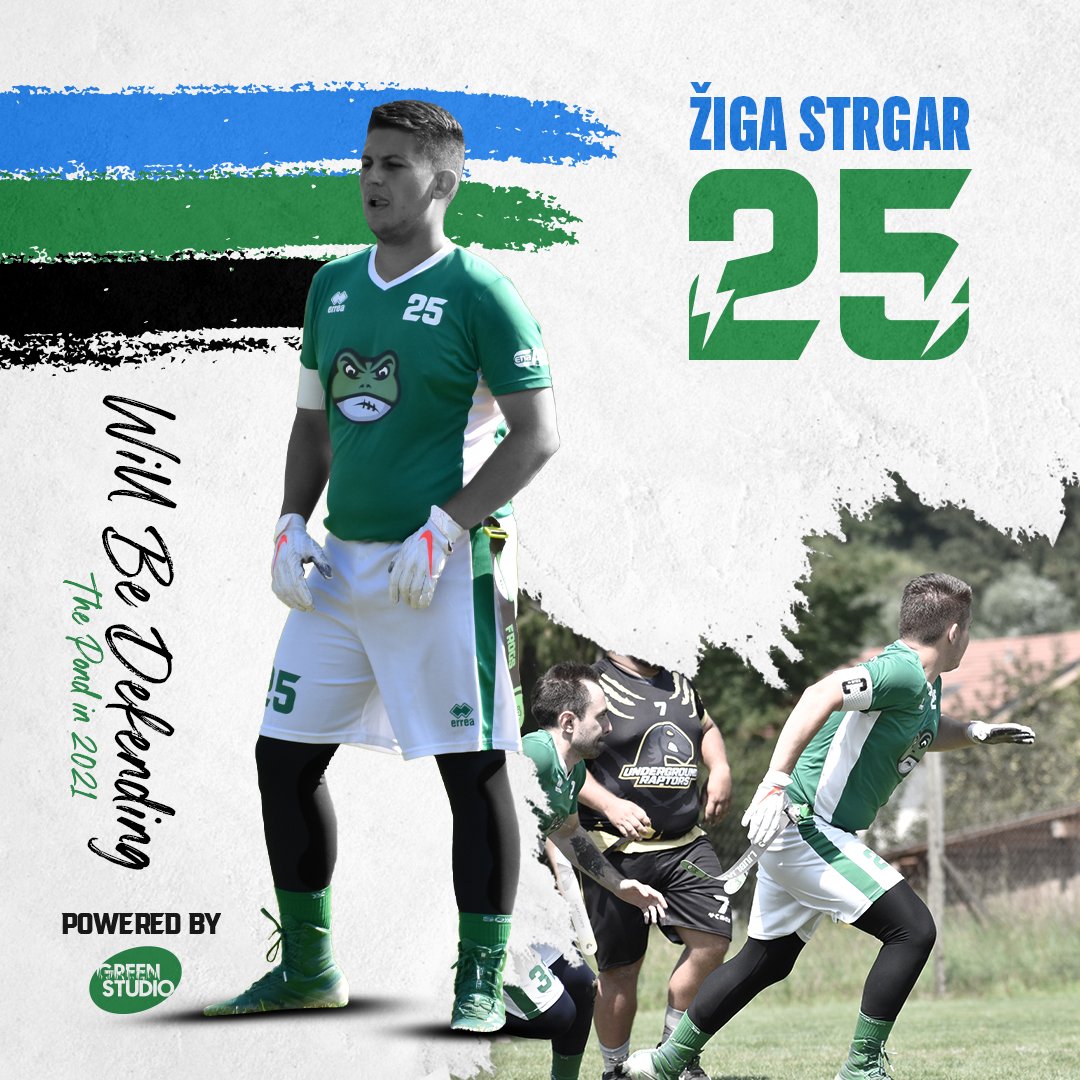 Žiga Strgar will be defending the pond in 2021
GH: You were named the most improved player this flag football season and somehow you predicted that before the season. Where do you think you made the biggest leap in your game?
ŽS: "I would attribute that to training, especially individual training with Aljoša and Deki, where we worked a lot on the explosiveness, technique and coordination of hands and feet. So we can say that my overall physical fitness and health contributed the biggest share to this. Even though the physio roasts me on "my" club posts, if we do an advertisement for the most injured player (laughs). "
GH: You were also among the better pullers in the Slovenian flag football league, but you were left without a single intercepted pass. Are you disappointed about this and when do you predict your first franchise interception?
ŽS: "Of course, I would like to see some intercepted passes and some extra yards. Especially since I made 2 with my first appearance in a Wild Hogs jersey, one of which ended with Pick Six. On top of that, it was like a pre-season tournament, where there are no official statistics anyway (laughs). To return to the question, I am predicting the first intercepted pass for Ljubljana Frogs in the upcoming season, but I would not like to reveal against which team I would like to achieve this (laughs). "
GH: You are one of the players who played in the Wild Hogs jersey last season and then moved to Ljubljana Frogs. How important was it that part of the team already had chemistry and was relatively well-coordinated when they arrived in Frogs, as opposed to if the entire team had to start from scratch?
ŽS: "It definitely helped to have a couple of players with at least some experience. It is true that Ojka and I were really "green", and Miči also took on a new, unknown position. But I think we brought that experience and knowledge of the game rules to new players pretty well, which has been shown many times on the pitch as well. Otherwise, with the team we have, it wouldn't be a problem to start over. There is good chemistry between us and we understand each other really well from the very beginning when there were 6 of us at practice. "
GH: When you started flag football, you immediately decided to play in defense. Did you have any problems adapting to the dynamics of the game in defense and which element of this position presented you with the most problems?
ŽS: "I don't have any problems adjusting, because I started in defense and everything was new anyway. The speed of turning after the attacker causes me the most problems, which is definitely the aspect of the game where I have a lot of work to do this year. "
GH: You stated that for you, playing in attack sucks, but if you had the opportunity to test yourself in another position, which one would it be and why?
ŽS: "Huh, I don't know if blitzer counts? If it does, then it's kind of the most logical choice, it's part of the defense, last season, I even did a couple of plays there and got one sack. I like it mainly because of the different techniques/mechanics that are done in defense. However, if I had to choose a position in the attack, I'd choose the quarterback. That would be a really tough challenge for me and I always love challenges like that (laughs). I don't have the technique of throwing, reading the open receivers, but maybe the experience from the other side would come in handy.
GH: In the Ljubljana Frogs team, you are also a representative of the players. What are your tasks as a player representative and what does such a position mean to you?
ŽS: "The main task is to connect the players with the management/board of the club. And I represent a person to whom teammates can turn in any case or in case of any problem. So basically, I report to the management about the condition of the players, the played tournaments, injuries, absences, etc. On the other hand, I represent the voice and interest of the players in the decisions. The role is a sweet concern for me, because it is in my interest that all members of our club feel good and accepted, and I am also honored to represent our family. "
GH: Professionally, you are a successful programmer, which requires a certain amount of concentration to deal with lines of code. Does this ever transfer to the field where you need to be focused on reading your opponent's attack all the time?
ŽS: "It is definitely familiar, focus and keeping calm nerves in chaos, I think are the best ingredients for solving problems. And I want it to be present with me and my teammates on the field when we face opponents or problems (laughs). I would say that the field works the other way around, that is, it also has a positive effect on my career path."
Powered by Green Studio.