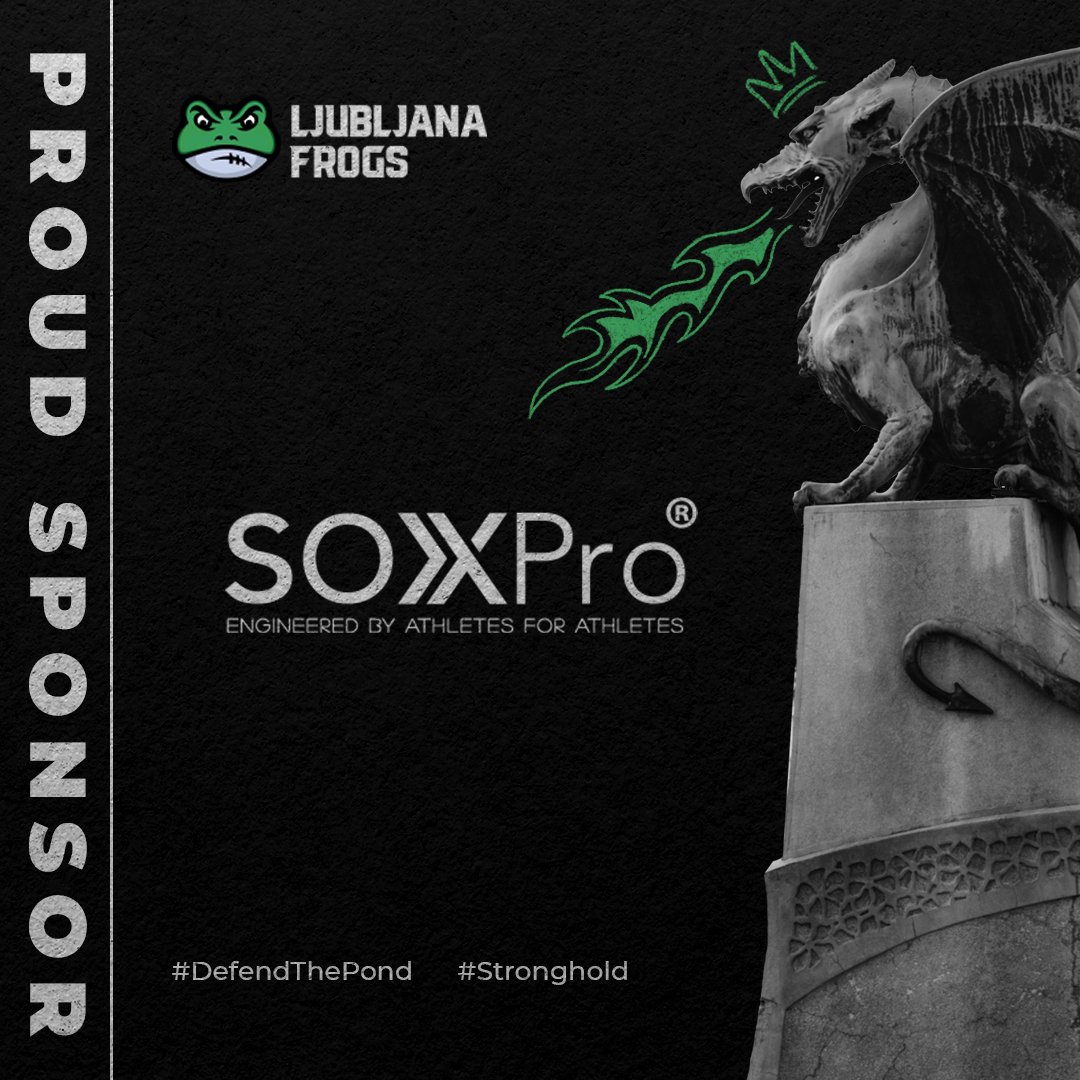 Anti-slip socks from Soxpro also a partner in 2021
SOXPro is an Italian company from Savona. The CEO is Christian DiLeo, an ex-footballer who is now making an impact in sports. SOXpro has a product which is made and designed in Italy. They introduced anti-slip and recovery socks. And we in Ljubljana Frogs are proud owners and partners with SOXPro products. This season we will be using the new product Ultra Light the lightest anti-slip socks on the market. The micro cushion technology covers the sole of the foot preventing it from hits and blistering.
The heel area is lifted up with a cushion, and the tip is instead thinner than the SOXPro Classic. The Achilles talon and the ankle are effectively protected from injuries. For the highest individual performance, Soxpro added an Ultra High airflow ventilation system adapted to long performance under any weather. Seamless for unrestricted feel-good & empowerment sensation, the Ultra Light Performance anti-slip socks have thinner tips for pure body control from head to toe.
The new SOXPro Ultra Light are the lightest anti-slip socks on the market. With a weight of just 30 grams, they are perfect even for the most sensitive feet. Combining sustainable fabric with the finest cotton, you will experience ultimate lightness and comfort. Our socks have been created with Polyester Newlife to Yarn. A special and eco-friendly yarn made from post-consumption plastic bottles and produced using a mechanical, not chemical process.
Furthermore, this area has a techno stretch honeycomb fabric, breathable and antibacterial. After the games, we are using SOXPro recovery socks to provide higher compression to help muscle recovery and enhance blood circulation for faster muscle recovery. More and more professionals are using this technology to recover faster from training and competitions, reducing muscle damage and limiting post-training swelling. SOXPro Recovery avoids the accumulation of lactic acid on the calf's muscles slowing the muscular strain and drastically reducing the recovery time.
These Recovery socks can be used before the sports activity to fasten the warming up. They are also perfect for post-performance to shorten recovery time muscles. So we will prevent injuries with the anti-slip socks and refresh our calves with recovery socks. You can read more info here. You can find more info about our sponsors here.