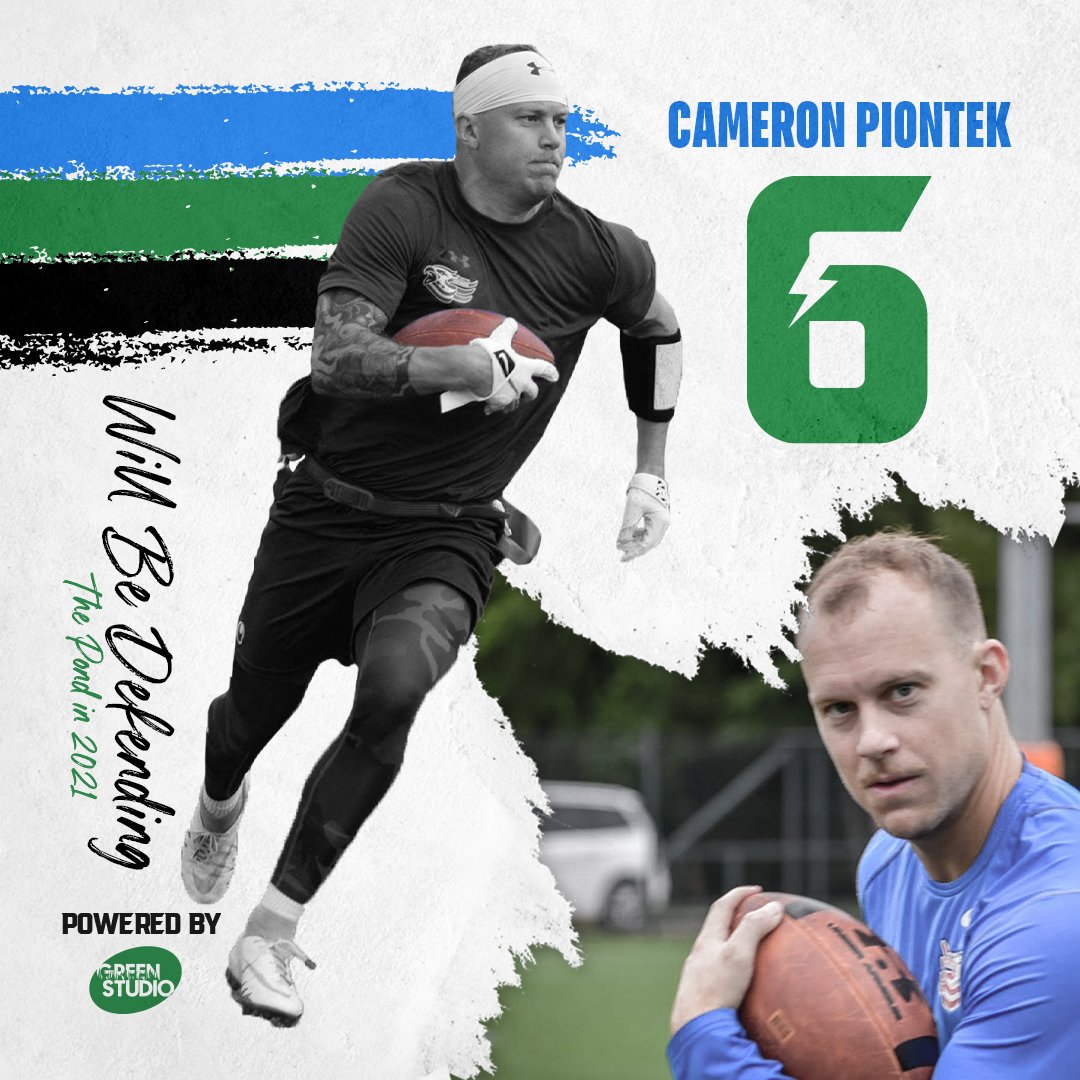 Cameron Piontek will be defending the pond in 2021
GH: You have been playing flag football since you've been 14 years old. What made you fall in love with this sport that you still play after all these years?
CP: "I originally fell in love with flag football because it was more technical and fast-paced than tackle football (which I played for several years). I loved the aspect of speed and technique being at the forefront of the sport. I also loved the brotherly bond it creates amongst teammates and others playing the sport."
GH: As a member of Kaiserslautern Eagles, you already won a fair share of tournaments across Europe. How has playing on such a high level helped you improve as a player and how will it help you playing in the SFFL?
CP: "Playing with the Eagles had taught me a lot about competing with very good players and how to keep a level head when there is a lot of pressure on the game you're playing. I have also been able to learn techniques and secrets from some very skilled players along the way! Hopefully, I'll be able to carry some of that experience over and help the frogs to their first SFFL championship."
GH: Due to the COVID-19 situation, you must be itching to suit up for Frogs for the first time. What will you bring to the table and what can the fans expect from you?
CP: "I AM SO READY TO PLAY!!! I seriously cannot wait to suit up and play with my Slovenian brothers this summer. I hope to bring a little bit of speed to the table and I hope to be an excellent receiver and defensive back for the frog army."
GH: Flag football popularity is growing by the year in Europe. How would you compare the flag football community in the US and in Europe and what do you predict for European flag football in a few years?
CP: "Flag Football is also growing in the US. More and more people are realizing the dangers and long term effects of tackle and I believe more people are seeing flag as a viable alternative to be able to play the sport without potentially suffering in the long term. I hope to continue to see the growth of such an amazing sport in Europe for many, many years to come."
GH: You are also playing football in one of the lower German leagues. When did you get started with football and how does it fit between your job and flag football?
CP: "Yes! I play for FV Weilerbach in the German Bezirksliga. I started with football much earlier in my life and have played for a very long time. It's been a way for me to stay in shape and has kept my footwork sharp! It can definitely be a struggle balancing everything, but it is definitely worth it."
GH: You've been living in Germany for quite some time now. How has life in Germany been for you and how long did it take you to adapt to their culture and lifestyle?
CP: "It has almost been 4 years now, and I'm still learning and adapting haha. My German still isn't very good, but it's getting there. Due to COVID I've been missing festivals and being able to travel to neighboring countries pretty badly, but things are starting to look up."
GH: What does a normal day in the life of an Air Force airman look like?
CP: "It's not too different from every other job out there. Wake up, go to work, answer a bunch of emails, hit the gym, and then enjoy some off time. I just have to wear camouflage to work hahaha."
Powered by Green Studio.