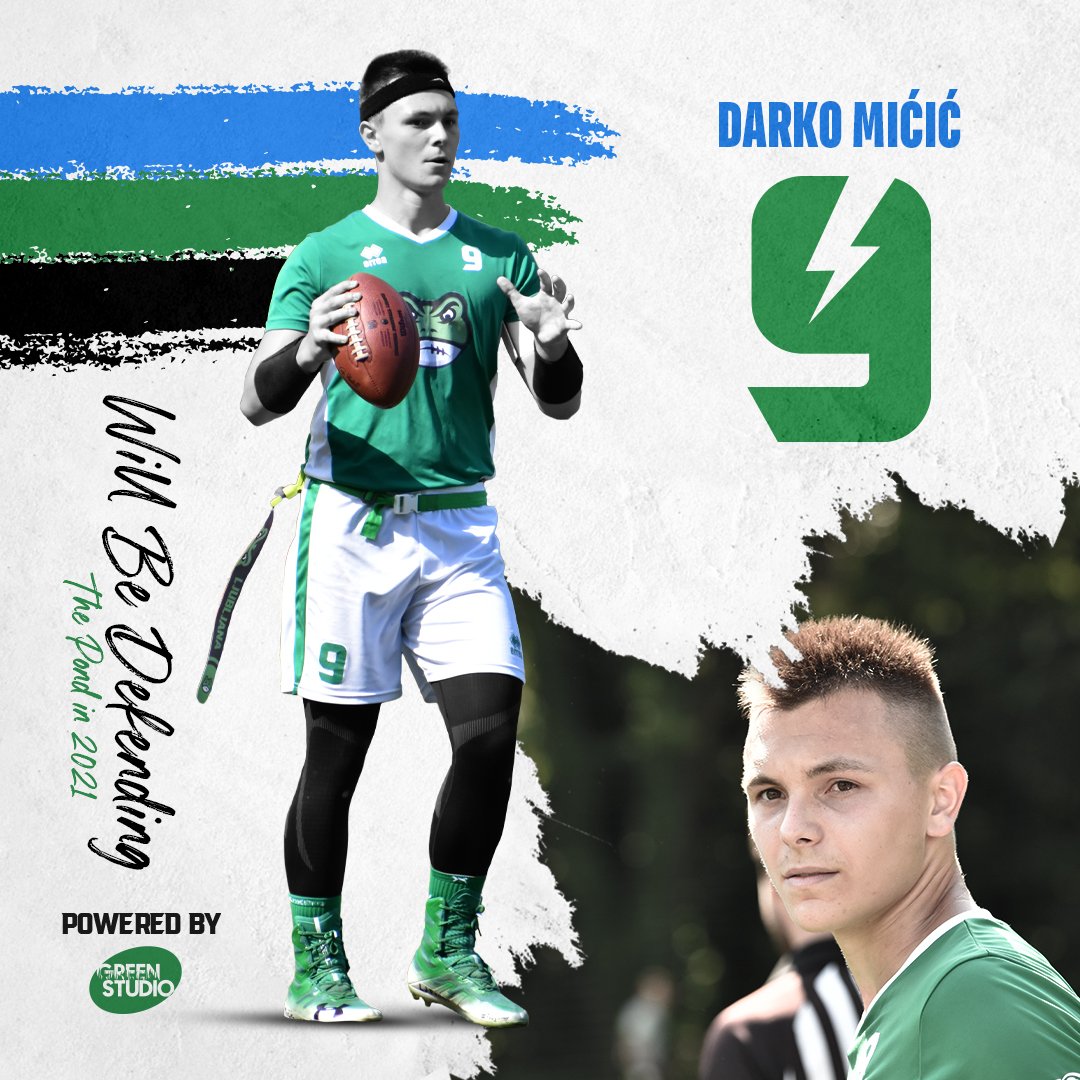 Darko Mićić will be defending the pond in 2021
GH: You finished the season with great stats, earning 8th place among all the players, and you also became the Frogs' 'best individual". What do such individual accomplishments mean to you, and will it affect you next season, where there will be pressure for similar, if not even better, stats?
DM: "Such achievements mean a lot to me because I didn't expect to get that far, especially in the first season with the Frogs. These achievements will have little impact really, as I would like to achieve better results, as any other player would. "
GH: You are the youngest member of the Frogs, and in the position of QB, you are also the commander of the attack. How do you deal with the pressure that this situation brings and does it affect your game in any way?
DM: "The pressure is great because my actions also influence all the other players around me. But generally speaking, it just doesn't affect the game, because I think we are all equal in this team."
GH: Back then, while still in the Wild Hogs jersey, you also gained international experience playing in tournaments abroad. To what extent do these experiences prove useful against the current opponents in SFFL?
DM: "Very little, because I didn't play as a quarterback at the time. But nevertheless, it is a great experience to play against stronger teams."
GH: When you first found out about flag football, what excited you the most about the sport that you opted for?

DM: "When I first learned about flag football, it reminded me of American football (tackle), as it is a sport I admired as a little boy, especially when they're tackling and knocking each other down. However, I did not know at the time that this also existed in Slovenia, and when I heard from my classmates that this sport was also in our country, I wanted to start training as soon as possible."


GH: Last season you also played in the cornerback position in defense, but this year you focused solely on passing. How did you feel about playing in defense and do you ever miss playing in that position?

DM: "I found the game in defense to be really fun. Once you decipher how defense works, it is not so difficult. I sometimes miss playing on defense because I was pretty good at it, but now it's time to focus on the quarterback position."


GH: When you transferred to Ljubljana Frogs and moved to the capital for school, it's understandable that you faced difficulties in adapting to the new environment. How did you deal with that and how much did your new teammates help you with that?

DM: "My teammates helped me a lot, as they offer me a lot of opportunities and they want to help in every way possible. I think everyone would be happy to have such awesome teammates."


GH: Your biggest role models among professional NFL quarterbacks are Drew Brees and Matthew Stafford. Who would you rather choose at the end of the match to bring victory to your team and why?
DM: "Matthew Stafford, because he's a very smart and experienced player who has a lot of talent and could help get a win for our team."
Powered by Green Studio.