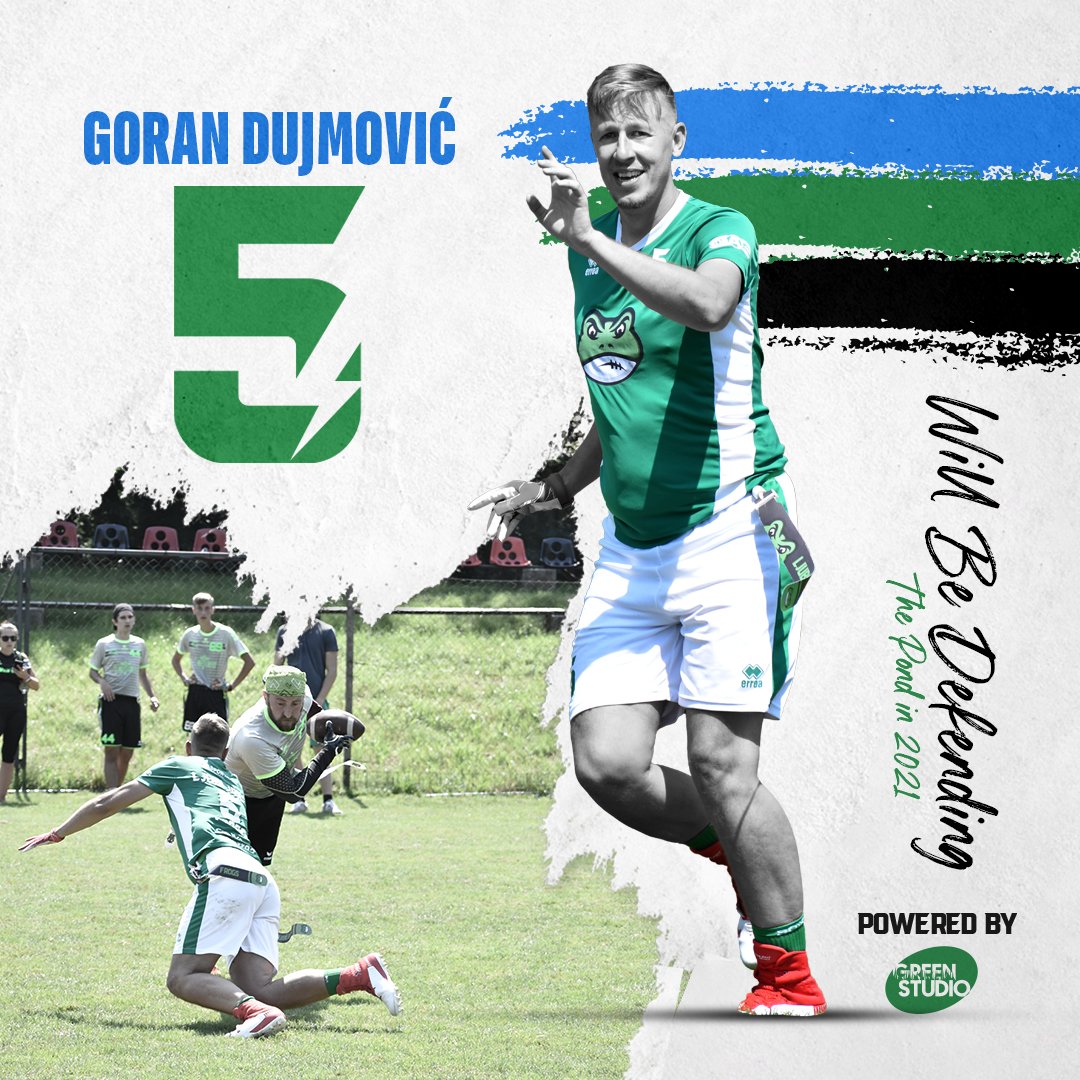 Goran Dujmović Ojka will be defending the pond in 2021
GH: With your performance, you gathered 29 points this year, which put you in 11th place among the blitzers and in 100th place among the best players in the league. Are you satisfied with the final stats and team results of the season?
GD: "I'm not happy with last season, at least in terms of my individual achievement, as my goal was to be in the top 3. Unfortunately, the season was very difficult for me because I had a lot of problems with injuries."
GH: Both Frogs blitzers have ranked among the top 100 players in the league this season. How important do you think the position of blitzer is for your team and what does such strong competition in the position mean to you?
GD: "Considering I have a little more experience as a blitzer, I try to pass this experience to my teammate Blaž and I have to admit that we make a great team, we encourage each other. Blaž has shown a lot this season and I think he is getting better every day, so he deserves to be where he is. I want him to be even better because that's how I will be motivated to prove myself to the team and thus earn playing minutes. I will try and continue to share my experience and knowledge with my teammates so that we will achieve even better results next season. "
GH: You've been suffering from a knee injury for a long time, which recurs every now and then. Have you adjusted your game during this time or do you use any "trick" to make it easier to catch opponents' flags?
GD: "As far as my injury is concerned, it's a bit more complicated, as I am left with the consequences of muscle disease from the past. I try my best to strengthen my knees and ankles and thus prevent the problems from last season. I'm a man who has many tricks up his sleeve, so I'll be happy to use them next season. Considering that I'm not very fast (laughs), my height is the key advantage in stopping the balls. It is not my priority to always pull out the flag, but to stop the QB in any way, of course in the allowed manner. Last year I had a typical "basketball block" when stopping the ball, which unfortunately is not recorded in the stats (laughs). "
GH: In this year's offseason, the team has been strengthened with a few new players and staff, and the core of the team has remained the same. What are your expectations and predictions for the new season?
GD: We've got quite a few young teammates who will give freshness to us "old men" (laughs), so I expect them to want to prove themselves, and I'll do my best to pass on my knowledge to them. Desires and expectations are high. I believe in our team and I think we will be in the top 3 or even win the championship. "
GH: What goes through your mind once you announce a so-called "blitz" and stare into the eyes of the opposing quarterback?
GD: "I can't share that with you (laughs). Even though I'm a Frog at heart, I'm a pit bull in my head at that moment (laughs). "
GH: Goran, you are one of the more experienced players in the Frogs, since you already played this sport last season. Do you feel additional responsibility for mentoring younger players and sharing your knowledge because of your experience?
GD: "As I mentioned earlier, I will pass on my knowledge to my teammates. This is my responsibility and also my wish because it can also make the team stronger. "
GH: Before you started playing flag football, you were active in a semi-professional football league. Was the transition from one ball to another difficult for you or was it not too much of a problem?
GD: "The transition was not so difficult, as the two sports are very similar in some segments, the biggest difference is in the ball and catching and kicking. I enjoy team sports because I have a team spirit. I played as a midfielder in football and I can say that it serves me very well in flag football and on the pitch, because I have a great overview of the game."
Powered by Green Studio.