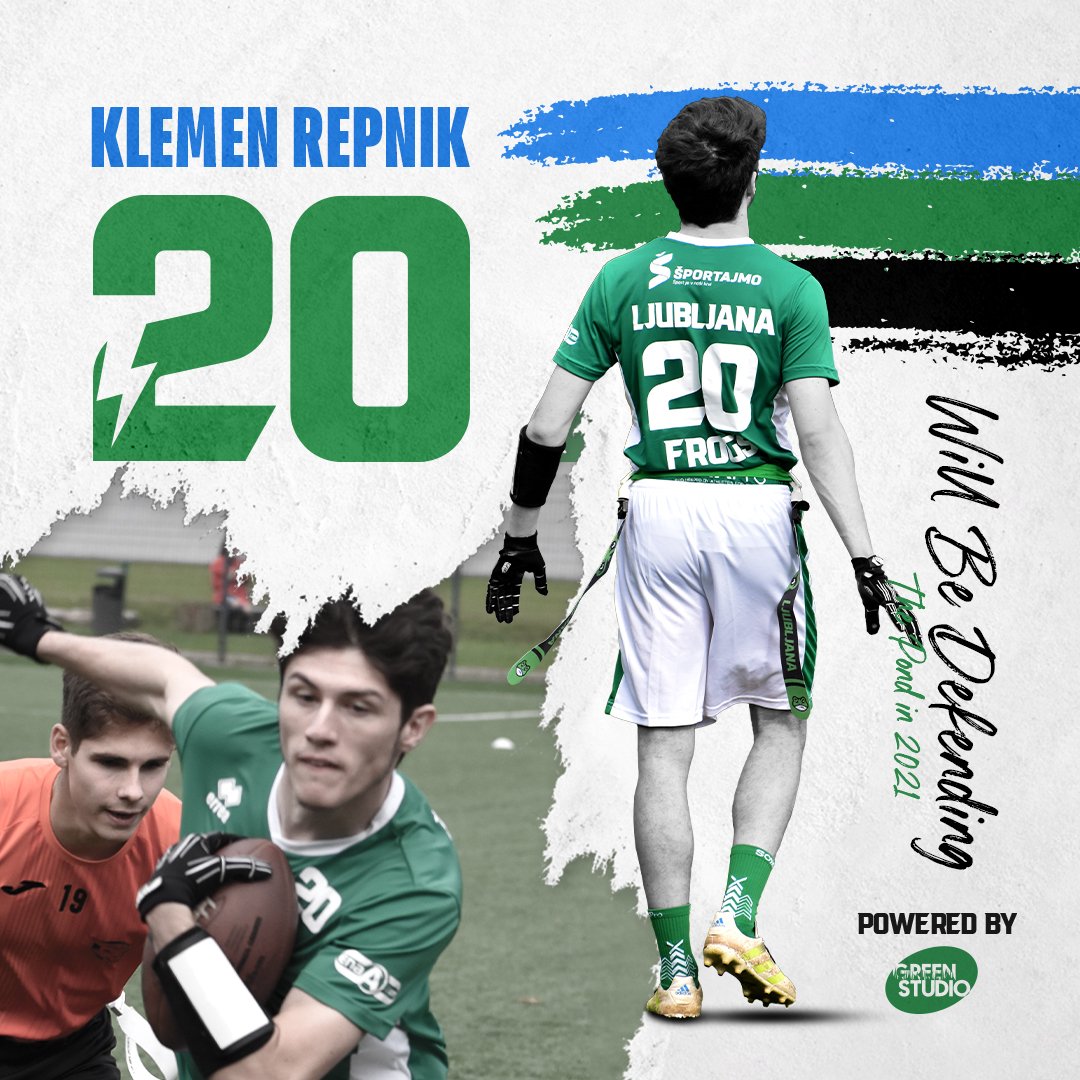 Klemen Repnik will be defending the pond in 2021
GH: You joined the team in the middle of the season, where you only played a few games, which made it impossible for you to accumulate more significant statistics. What were your expectations, considering the situation?
KR: "Given that I am an athlete, of course I had high expectations for myself before I started training. But I knew there was a good chance I wouldn't have the opportunity to make as much impact this season as I would have liked because I joined the team at the end of the season. I knew this was going to be a new challenge that would take me some time. Above all, I received a warm welcome at the club and I would like to thank the team for that. "
GH: In the team, you will play as the wide receiver where Gerčar, Ocvirk and others have great performances every game. What do you think will be your advantage that will set you apart from others and how do you feel about such strong competition in that position?
KR: "Of course, I am aware that Gera and Žan have a lot more experience with team sports and ball sports, but I think I can be competitive in this position as well. I know that I am very fast, skilful and resourceful, but I still have a lot of work to do in the area of technique and coordination. Then I think I will be able to compete with them as well. I hope that in the upcoming season, I will have the opportunity to prove to myself, but also to the coach and teammates. "
GH: Given the relatively short time in flag football, have you gotten used to the dynamics of the sport or are there any other elements of the game that are causing you headaches and you want to improve them in the coming season?
KR: "As you already know, I used to train karate and I'm transferring from a predominantly individual sport to a team sport. This represents a big change for me. Otherwise, I always liked to play team sports but I never practiced them. Of course, I still see a lot of mistakes in my game and areas where I need to improve. As I have already mentioned, in the coming season, I want to improve my foot coordination, catching the ball and running routes. Over time, I will find it easier to predict the moves of the opponents. Physically speaking, it is time to return to the levels I used to be on when I practiced karate, maybe even higher. "
GH: You did great in karate in the past and you've also won a considerable number of medals. What, apart from the winning habits, did you learn while practicing karate and can you transfer any of that to flag football?
KR: The most important thing I was able to bring from the Karate Club Polzela into life is definitely that "repetition is key". If you practice something long enough and repeat it constantly, you will improve and learn over time. The one who does not give up, wins. In addition to good genes, years of training are undoubtedly responsible for ingenuity, explosiveness and motoric skills. "
GH: Players choose jersey numbers for a variety of reasons, their idols, birth year, or because it's the only available number. Why did you choose the number 20 and does this number have any special meaning for you?
KR: "Personally, I don't have a favorite number. In the beginning, I wanted no. 17, which would be the same as the title of one of my favorite music albums. I then chose the number 20, because a few years ago, my colleague (and now also my teammate) Lucijan and I had a great desire to make our own clothing collection called 2020 Vision. But then we decided to focus on other matters. In some sorts of memory, I then chose no. 20. "
GH: The situation with COVID-19 has deprived all athletes of training for a long time. How did you maintain physical fitness and prepare for the new season?
KR: "Definitely, the current situation has made it impossible for many people to socialize or practice. Personally, I really like playing various sports with my friends, but we were quite disadvantaged during this period. I kept myself physically fit by running, some cycling, weights, and also an occasional yoga. But I'm already looking forward to the time when it will be possible to go to training again, or at least have a cold beer after a game of volleyball in the summer (laughs). "
GH: In your professional life, you are a co-founder of a marketing agency, and you are also a student at the Faculty of Economics in Ljubljana. What is it like to enter a market where a lot of effort and time is required and how do you balance this together with study and sports?
KR: "For now, coordination in all areas of life is still going well. I hope it will be the same when the season starts with practices and matches. I definitely have plenty of time for everything and I try to dedicate myself to all the things that make me happy, even if the university sometimes suffers a little. I am happy to have two real friends with me, with whom we started this entrepreneurial journey together. Of course, I should not forget to mention all the other people who help and support us. For now, I think we are on the right track and going in the right direction. But how it will be in the future, we can only guess and hope for the best
Powered by Green Studio.