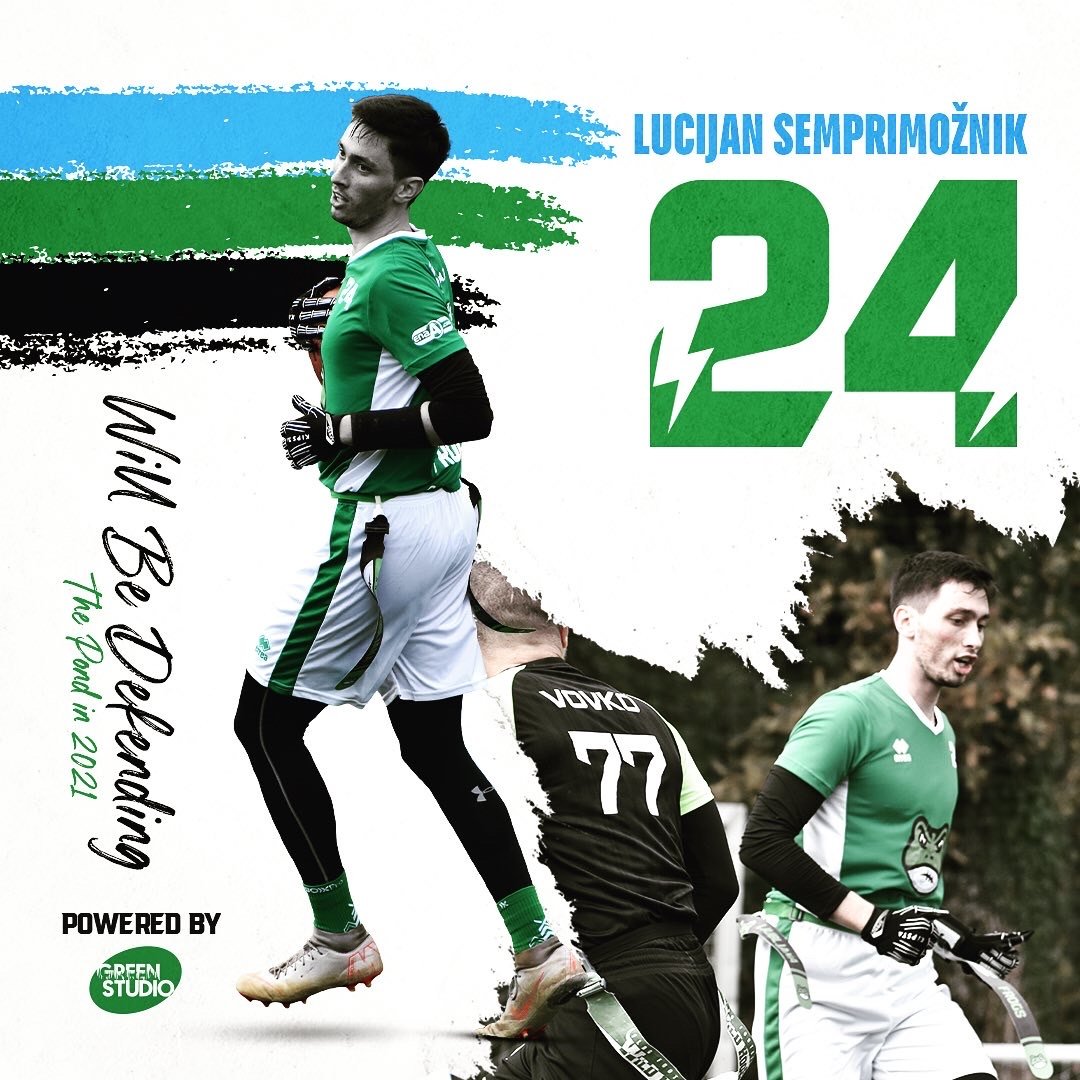 Luc Semprimožnik will be defending the pond in 2021
GH: You've only played four games this season, but nevertheless, you managed to leave a good impression and put together a decent statistic of 6 touchdowns in 4 tackles. What were your expectations for the first season and how satisfied are you with the final results?


LS: "I exceeded my expectations greatly, mainly because I trained in defensive positions all the time, so I didn't really plan to score any touchdowns. So I'm very happy with my attacking game this year, but I've played pretty bad in defense a few times, and if I'm going to play defense for another year, I'm going to have to fix it."
GH: You had your best performance this year against the Wild Hogs team, where you scored 3 touchdowns, and you had good performances in other matches as well. Which team was the hardest nut to crack for you, where you had to work even harder to succeed?
LS: "The hardest game was against the Domžale Tigers because it was the 3rd match of the tournament, so we were all already very tired. In addition, I also managed to break off half of the sole of my football boots and I had a pretty bad grip (laughs)."
GH: You play in a center position, that may be, to those less familiar with flag football, a little less known position. In a few words, can you describe what the game looks like in this position?


LS: "This position is still a bit unknown to me, as I played it for the first time in the tournament because beforehand, I practiced on the defensive side. The center is the player who starts the attack with a backwards pass, between the legs, to the quarterback - which is called a snap - and then plays the attack like any other receiver. You just have to be careful that you don't run into the blitzer who has an advantage over you on the field."
GH: Expectations will be high for next season, especially since many see great potential in you. What will be your recipe for scoring points and with what goals will you start the new season?

LS: "My recipe will be the same as this year. I will train hard and run every route with maximum effort. My goal is to get at least 1 TD every game, and of course, to play with as few mistakes as possible and help the team to win."
GH: What were your impressions after the first few training sessions and how did you fit into a team that already had a well-established system and mutual chemistry in the middle of the season?


LS: "After the first training sessions, the flag football became very interesting to me, so I was quite motivated to play. I think I fit in the team very well, I had been together with a few boys on the basketball court in basketball club Vrani before, and I got along with others quickly, because they are all great."
GH: Like many of your teammates, you came into flag football from basketball as well. Tell us how did this transition happen and what does it mean for your basketball career now that you are actively playing flag football?


LS: "The transition happened when Žan invited me to the flag football practice after the tournament in Vransko, when Klemen and I came to see him in Matic Gerčar tearing it on the field. There, Klemen and I decided to go to Frogs for a little test in flag football. I still play basketball the same as before, so I will most likely still play for basketball club Vrani Vransko, but I will probably dedicate more time to flag football."
GH: Your big role model is Kobe Bryant, which is why you wear the number 24. Have you ever "designed" your game on the basketball court after him, and where do you think Kobe ranks on the list of the best basketball players of all time?


LS: "Yeah, I've always loved looking at Kobe's highlights and trying to do it on the court. Besides, Kobe is also a role model to me outside of basketball, after all, he won an Oscar. At the top, there are Jordan and Kobe and then everyone else follow them on the all-time great list."
Powered by Green Studio.