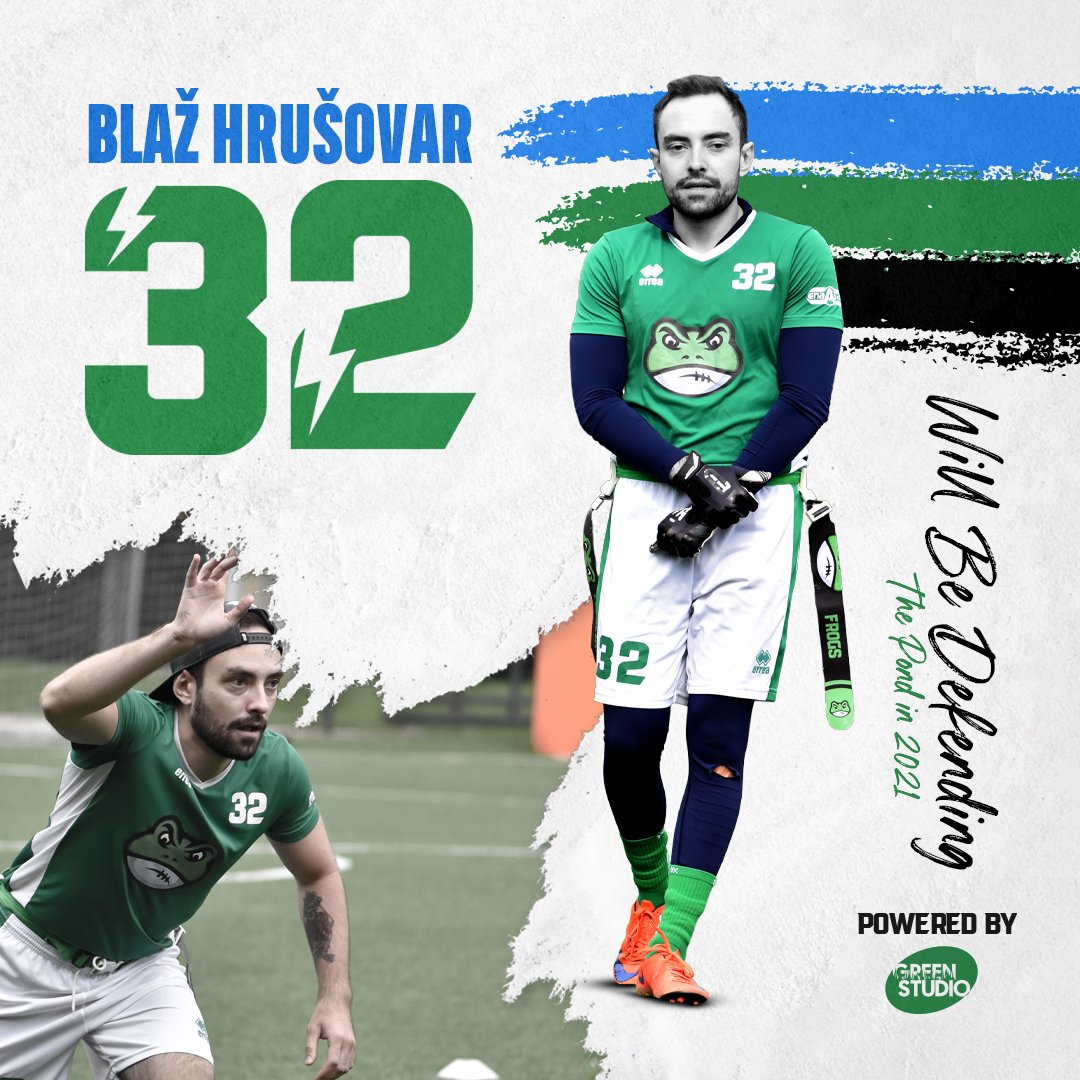 Blaž Hrušovar will be defending the pond in 2021
GH: You finished your debut season in flag football, in which you finished with 4 sacks and 6 tackles, which is a very decent result for a rookie. Are you happy with the achievement or did you expect more?
BH: "I am satisfied with the result, but of course, there is always room for improvement."
GH: Before the season you said that considering it's the first season for the Frogs, the lack of good results would not mean too big of a disappointment. What's your view on that after the season and what are your expectations for next year?
BH: "Because this was my first season, I wasn't familiar with the opponents and I didn't know what we are capable of as a team. For the upcoming season, I believe the trophy will be ours (laugh)."
GH: Goran Dujmović and you make a great blitzing duo, for which there are big expectations once again in the next season. How do you two get along in this position and is there any competitiveness between you?
BH: "We have our ways and we get along great on the field. I don't think there is any competitiveness between us, but we do encourage each other to get better results and we both know that the only result that matters is the one we achieve together."
GH: You showed up against every opponent this year and successfully chased the opposing quarterbacks. Who turned out to be the toughest team and the toughest individual this year for you?
BH: "I will give that title to Novo Mesto Knights, especially to their QB Travnikar, who is really making the most out of his many years of experience."
GH: Before flag football, you didn't really participate in any team sports and flag football was a relatively unknown sport to you. How did the adaptation period go for you and how did the teammates help you with that?
BH: "To be honest, not a lot of adapting was needed. We got along really fast and now we all work as a fine-tuned machine."
GH: What were your first impressions after the first few practice sessions and how did you land in a blitzer position?
BH: "I started playing as a blitzer because of my fast legs and a wish of playing on the defense."
GH: Ever since you were a young boy, you have loved skateboarding. Did you ever get any bad injuries and do you ever go skateboarding now that you play flag football more seriously.?
BH: "No, in all those years I didn't get any bad injuries and of course, I hope that it stays like that in the future."
Powered by Green Studio.