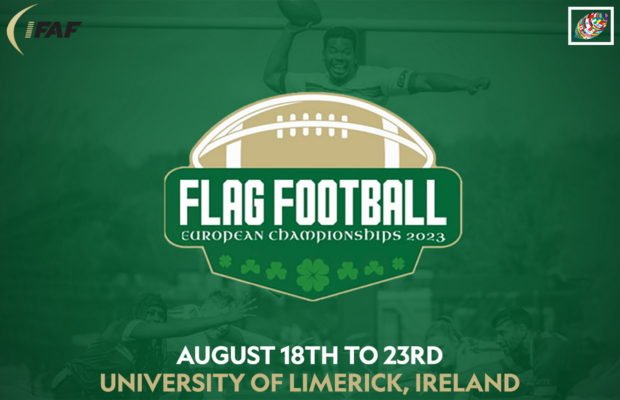 European Flag Football Championship 2023: A Power Ranking Preview
With the groupings now confirmed, and the competition format set, we find ourselves looking at a record field of participants. Both men's and women's teams will battle it out from August 18th to 20th, vying for the European title. This championship is especially significant, being the first since 2019, and it's also a chance to qualify for the World Championship in Finland next year.
Let's dive into our power rankings!
Group A - The Battle of the Firsts
1. Italy - With QB1 Ines Raven stepping in for Luke Zahradka and WR1 Gianluca Santagostino replacing Jordan Bouah, Italy is well-equipped to maintain their momentum.


2. Switzerland - Though missing their primary QB Dennis Sieger, with players like Frederic Eppisier and Claudio Ferrari on board, expect fireworks from the Swiss.


3. Finland - With vast international experience in both tackle and flag formats, they're favorites to surpass both Ireland and Ukraine.


4. Ireland - Playing as hosts, they will definitely have the home advantage.


5. Ukraine - They might surprise us, but for now, they are at fifth.
Group B - The Group of Death
1. France - Players like Anthony Riquin, Scott Harrison, and Ralph Rosalie are sure to bring their A-game.


2. Spain - The trio of Oscar De Luna, Chus Batista, and Nayim Mohammed promises an epic battle for the top spot.


3. Great Britain - Charlie Williams, Brandon Lamb, and Jack Jarrett are not to be underestimated.


4. Netherlands - While their offense looks promising, defense might be a weak point against the top three powerhouses.


5. Slovakia - With a less-than-stellar lineup, their prospects look slim.
Group C - Where Everything is Open
1. Austria - With the Wolf brothers leading their defense, they look solid to top the group.


2. Israel - A mix of experience and fresh talent promises a spirited performance.


3.Belgium - Traditionally strong in tackle, they should fare well against newcomers Cameroon and Georgia.


4-5. Cameroon & Georgia - Debuting in this championship, it remains to be seen how they will perform. Here's hoping they make their mark!
Group D - Where Two Powerhouses Meet
1. Germany - The team looks strong, and with Denmark missing Frederik Ermler at QB1, Germany might just clinch the top spot.


2. Denmark - Aiming for an 8th consecutive gold, they're the team to watch.


3. Sweden - Philip Smith, with his vast exp

erience, is expected to lead the team valiantly.



4. Czech Republic - With a blend of tackle and flag players, they are a dark horse in this group.

Matyaz Bily and Jakub Čermak, the 18 year old who played high school tackle will prove their worth.



5. Poland - An unknown entity, they might just have a few tricks up their sleeves.
As the championship draws closer, tensions, excitement, and speculations run high. Who's your favorite to win? Join the conversation and let us know on our Instagram!
Here's to thrilling flag football matches and unforgettable moments on the field! 🏈🏆