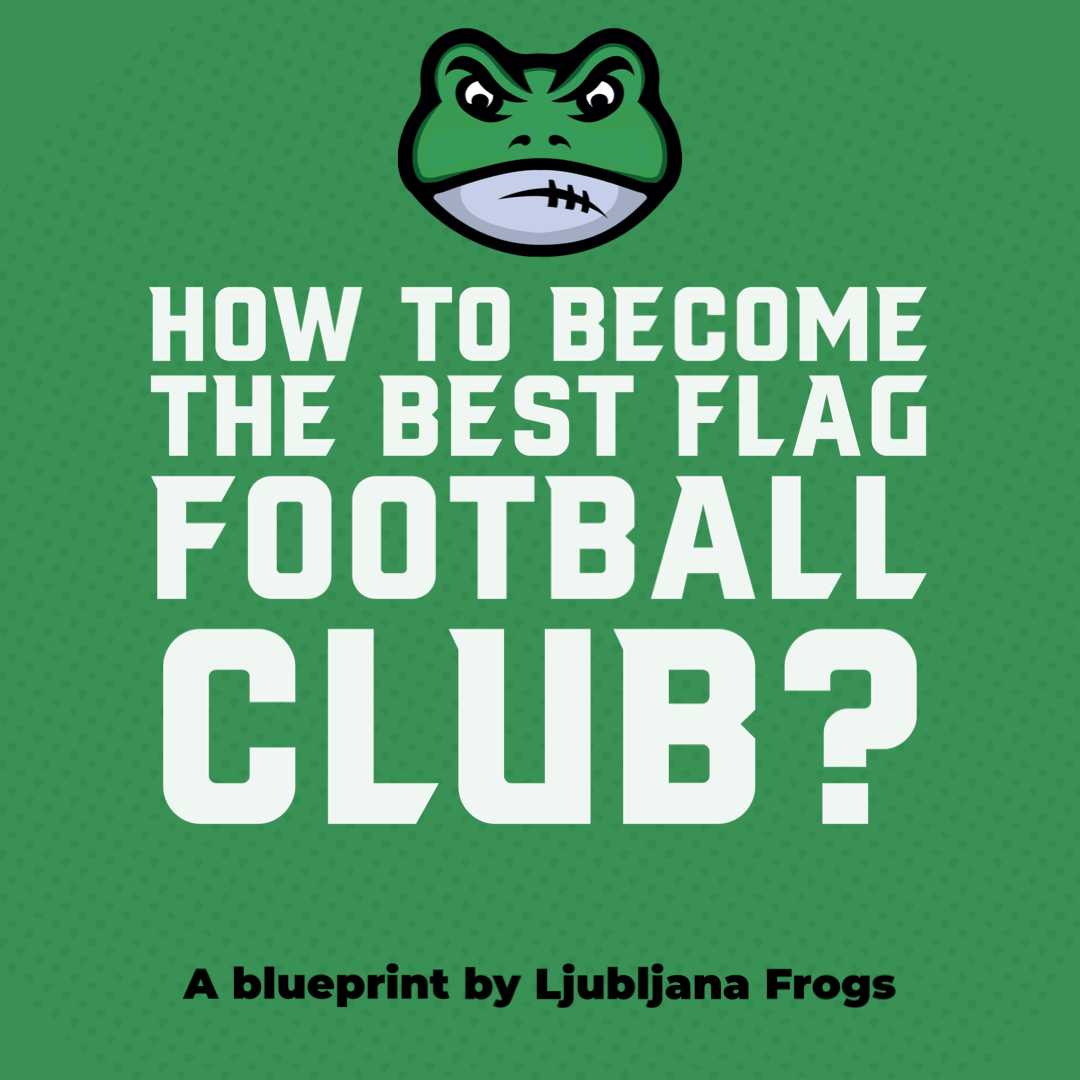 How to become the best possible flag football team?
Becoming the best flag football club requires a combination of talent, dedication, and hard work.
At Ljubljana Frogs, we started to build a team that would one day be a part of a franchise in American football in NFL, EFL or GFL, but to play flag football.
Flag football is one of the fastest sports in the world, which brings the attention of the NFL, which is investing millions of dollars into promoting the sport. Even in this year's Pro Bowl, NFL superstars will play Flag football. Heading fast towards the Olympic games in Los Angeles in 2028, it's just a matter of time before our sport becomes a paid sport for athletes.
But how to become the best possible flag football club? You have to know nothing happens through the night. For starters, You need infrastructure and local and international sponsors (We have some of the big ones, you can read more about them here).
After three years of searching for a suitable blueprint, we now have it, and we are excited to show it to you (yes, it's for free, and we would be happy if you could follow us on Instagram or share this blog with your teammates).
Some potential steps that a club can take to become the best include:
Develop a strong coaching staff: A successful flag football club needs a solid and dedicated coaching staff. This can include experienced coaches who have a deep understanding of the game and can help players to improve their skills and strategies. Yes, coaches should be paid, so you need sponsors. Not every person is a good coach, and you should divide them by the years of experience, expertise and the teams you have in your club. A head coach for a male championship team cannot be as suitable as you think for the younger players such as u9 or u11.

Recruit talented players: To become the best flag football club, you must have talented players. This can involve identifying and recruiting players who have the potential to excel in the sport and providing them with the support and training they need to develop their skills. Scouting is important. Best players in lower division clubs without prospecting season should not play for them just because they don't need another challenge. But they need a right direction. Talents should be attracted by goals and long-term missions, not quick wins.

Create a positive and supportive culture: The culture of a flag football club can have a significant impact on its success. A positive and supportive culture can help to create a sense of community among players and can encourage them to work together and support each other. Winning brings high morality and losses bring experience.

Invest in equipment and facilities: To become the best flag football club, you need access to the best equipment. This can involve investing in high-quality flags, balls, and other equipment, as well as access to playing fields and other facilities suitable for flag football.

Do periodic training. Know what to do in which period of the season so your players can be as ready as possible without significant injuries.

Compete in high-level competitions: To become the best flag football club, you must compete against the best teams. This can involve participating in local, regional, and national competitions, as well as international competitions, such as the IFAF World Cup and championship bowl in Europe.

Have a good marketing and PR department.

Your marketing and PR should be for the long haul. Branding is one of the hardest things to do, and it takes time. Designs are not anymore a thing to go, but it's still necessary. Reels and video content should be prioritised, yet you need a camera and people who will do it. You can be one band, man, but you can't.
Those are just simple steps which can give you an excellent insight into your solution on how to make a great flag football club. If you have any additional questions, we are here to help.