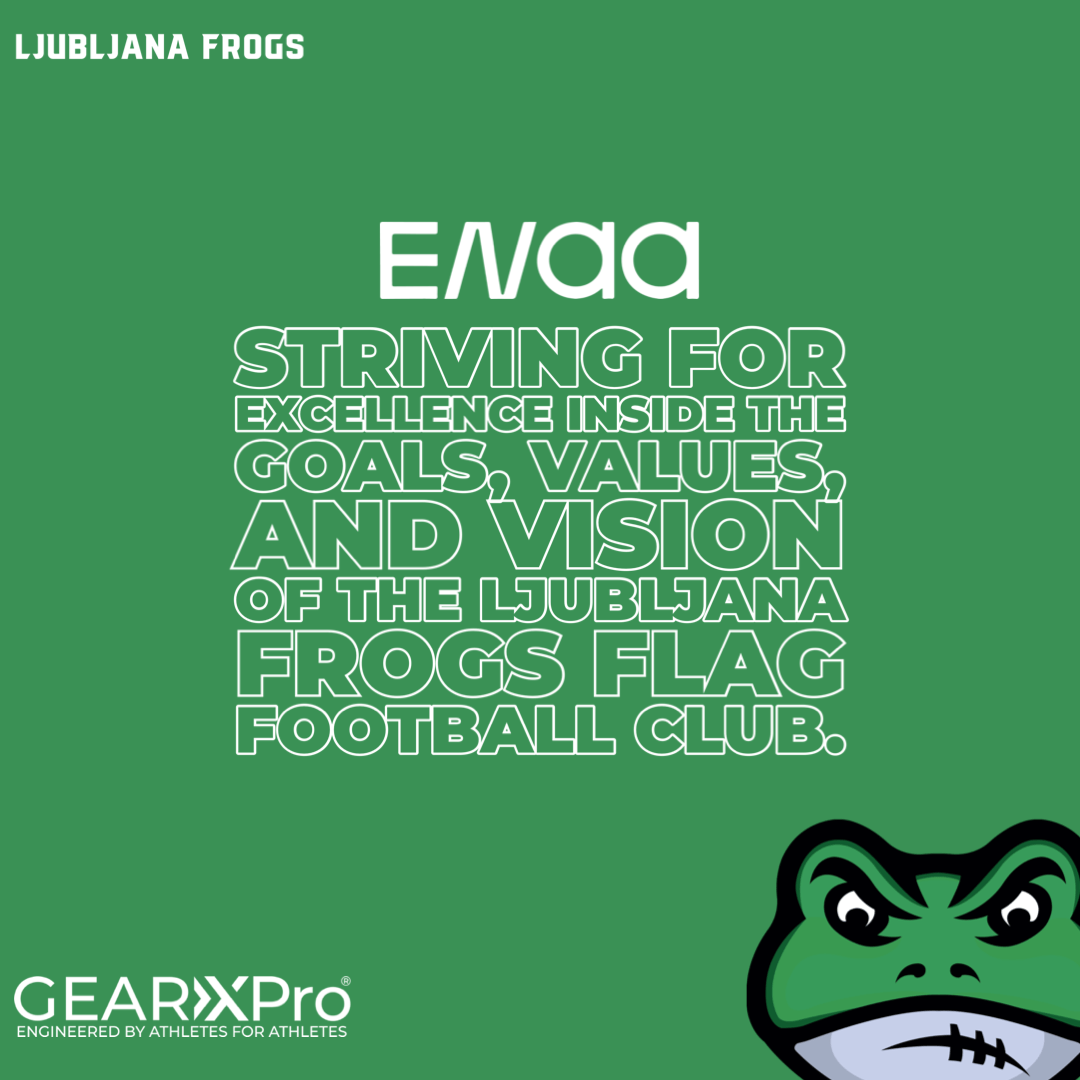 "Striving for Excellence: Inside the Goals, Values, and Vision of the Ljubljana Frogs Flag Football Club"
Discover the driving force behind the Ljubljana Frogs, a flag football club with ambitious goals and deeply rooted values. From aiming for the Championship Bowl to fostering an inclusive community, learn how this club is setting new standards in sportsmanship, teamwork, and community engagement. Join us as we delve into what makes the Frogs not just a team, but a family dedicated to achieving greatness on and off the field.
Team Long Term Goals:
Championship Bowl: Aiming for the Championship Bowl is a strong objective that will likely inspire your team to push their limits and strive for excellence.

Elite8 Level: Setting a high standard for your team's level of play shows that you're not just content with local or national success; you aim for international recognition.

Slovenian Flag Football League: Dominating your national league is a good stepping stone towards achieving your other, more ambitious goals.
Values:
Punctuality and Preparedness: These are foundational values that set the stage for all the hard work that's to come. When everyone is on time and prepared, it shows mutual respect and maximizes the effectiveness of practices and games.

Dedication and Humility: This is a nice balance, teaching players to strive for personal excellence without letting their egos get in the way of team success.

Chemistry and Teamwork: This is crucial in any team sport, but especially so in a sport like flag football, where coordination and communication can make or break plays.
Vision:
Your vision nicely encapsulates the goals and values into a larger picture, stressing the importance of excellence, inclusivity, and community involvement.
The holistic approach to nurturing not just athletes but individuals with a high degree of integrity, resilience, and community spirit is commendable. In this way, the club serves as a platform for life-long learning and personal growth, beyond just athletic accomplishment.
Best of luck in achieving these goals and fulfilling this vision! Your focus on both sportsmanship and community involvement should stand you in good stead.