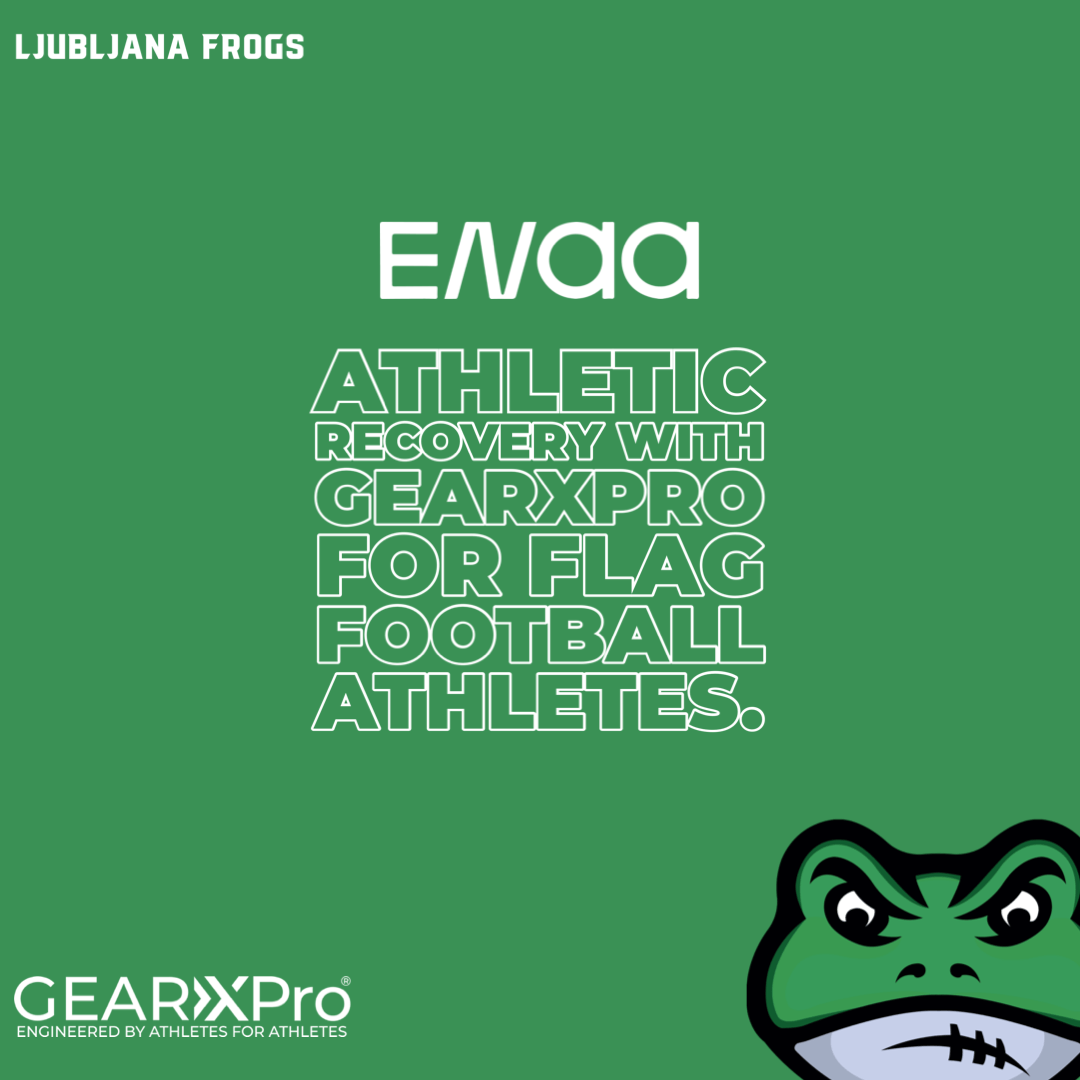 Unveiling the Future of Athletic Recovery with GEARXPro for Flag football athletes
Whether it's the high-intensity action of American football or the fast-paced energy of flag football, athletes require top-notch recovery to maintain peak performance. The secret? It could very well be the GEARXPro Recovery Long (or Half) Tights, a breakthrough in athletic recovery. Use code FROG20 to receive a 20% discount on purchases over 70 euros, or apply FROG30 for a 30% discount on orders above 100 euros.
Graduated Compression and ERGON+ Yarn: A Game Changer in Football
In the rigorous realms of American and flag football, recovery is non-negotiable. That's where GEARXPro's revolutionary graduated compression technology kicks in. These tights are woven with the exceptional ERGON+ yarn—a breathable, lightweight, and insulating fabric made of 70% Nylon and 30% Spandex—to aid in rapid recovery and optimal thermoregulation.
Class One Medical Device: Take Your Football Game to New Heights

Recognized as a Class One Medical Device, these tights significantly improve blood flow, particularly helpful for the extreme legwork in American and flag football. The enhanced circulation helps players recover faster, making them more effective on the field.
Precision Compression: The Quarterback of Recovery
Extra strong graduated compression pressure, rated at 20-30 mmHG, offers targeted support for quicker recovery times. This level of precision is key in reducing muscle stiffness and swelling, common issues in American and flag football. Imagine a sports massage therapist encapsulated in your tights—GEARXPro makes it a reality.
ERGON+ in Football: A Touchdown in Comfort and Performance
ERGON+ yarn goes beyond comfort to bring a regenerative effect to flag and American football athletes. Its ergonomic, breathable, and lightweight nature provides maximum comfort and efficiency, making ERGON+ an indispensable ally in football performance and recovery.
Multidimensional Benefits for Football Athletes
Faster Recovery: Return to the gridiron quicker than ever.
Reduced Muscle Stiffness: A must-have for any flag or American football athlete.
Reduced Pain: Get back to your game, pain-free.
Regenerative Effect: Recharge your muscles for the next match.
Maximum Comfort: Anatomical fit tailored for the hustle of football.
Fast Drying: Stay Cool on the Field
Ergon+ isn't just about enhancing performance; it also respects your skin. Its fast-drying and hypoallergenic nature make it ideal for football athletes prone to sweat and exertion. By promoting microcirculation, Ergon+ keeps your skin cool and dry, even after a grueling game.
Final Thoughts
Whether you're a flag football enthusiast or a professional American football player, recovery is a key part of your game plan. With GEARXPro Recovery Long (or Half) Tights, you're investing in a scientifically-backed recovery tool designed to propel your performance on the football field. Experience the future of football recovery now.
Visit https://www.gearxpro-sports.com/recovery-products/ for more information. Use code FROG20 to receive a 20% discount on purchases over 70 euros, or apply FROG30 for a 30% discount on orders above 100 euros.