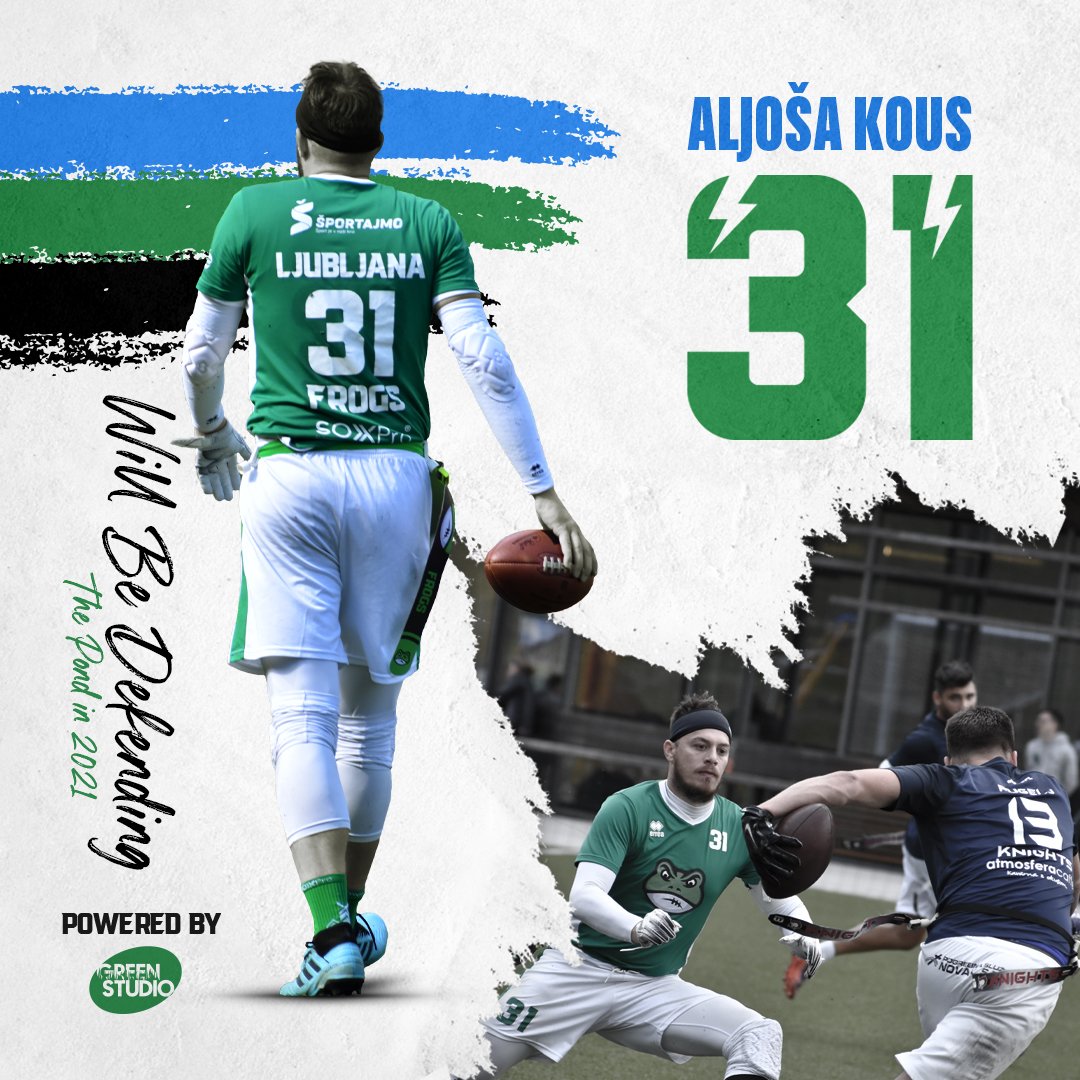 AJ Kous will be defending the pond in 2021
GH: You've picked up a whole bunch of individual accolades this season, in addition to being the league's best defensive back, you've also been the leader in intercepted passes and Frogs 'best defensive individual. What does such a show do to motivate the player and what does it represent for next season?

AK: "Looking at the scoring, I may have portrayed the best games as a defensive back. However, there are many hidden little things in defensive players that make a player stand out but not getting the same recognition. That is why players like Zelnik, Pugelj, Kotnik, received an invitation to the national team and are ranked higher than me on the list of the best players in the league, even though they have worse statistics than me. As a veteran on a team with European experience, I was somehow expected to be the leader in the statistical categories within our team because the rest of my teammates made some mistakes and half of them I made into a positive outcome for my stats. The motivation every season is the same, to be better than last year. When the numbers start to decline, it will be time to say goodbye. If I were asked before the start of the season what the numbers will be at the end of the season I would never have imagined such a season. I can only say that it is known there is no Lavrič senior in our team who would pick up my tackles ​​(laughs). However, it has been observed how daily well-being can affect an individual's play itself. In the third week in Planica I did not achieve a single interception and we played some "underdogs". For next season, the goal is to reach the milestone of 200 tackles and 25 INT. "
GH: You are the most experienced player in the team, with experience from Slovenian, as well as German and Scottish clubs. How has playing at the European level affected you as a player and what did you learn the most while playing for foreign clubs?
AK: "I learned the most about how fast some receivers can be and how, as the saying goes, a player with quick sudden changes of direction can throw you on the ass. (laughter) I will never forget AJ from the Kaiserslautern Eagles with his speed of light and Jeremy Pot from the French team Kalikakou when he broke my ankles when he scored a TD, or not to make a pass deflection on Benjamin Klever's bullet pass. You have to adjust your game according to the abilities of the receivers, if you can't match the speed they need to be stopped differently. I learn a lot of things in international tournaments. From coverage to communication, reading plays. Above all, it is an honor to play for foreign clubs because they respect you as a good player. You also see what the club has gained with you and how much you can help the team to a higher victory over a worse team and a minor defeat against a better team."
GH: You stated before the season that the first season of frogs will be dedicated mainly to playing, and the second season may already come as a surprise. How would you rate the state of the team after the end of the first season and do you think the surprise for next season is in place?
AK: "Yes it is. The goal and plan with the president and then-coach Makuc was to stabilize the environment, lay the foundations, put together a team and play the first season with a rookie passer. Also in defense, we were newcomers ourselves and the other against well-coordinated attacks like the Badgers or the Knights have, we could not have expected to learn from mistakes. The result of the team I think is more than satisfactory. We beat the teams from the lower part of the scale and lost against the teams from the upper part of the scale with two TD differences, the result of which showed the fruit of hard work at some matches, etc. The 8-8 result is more than successful for the first season. We were surprised this year with a victory against Domžale Tigers, but I also believe that next year we can surprise Ljubljana Killer bees. So that the next season will be full of surprises and good matches, not only between us but also between other teams."
GH: As mentioned, at 32, you have a lot of experience and rewards in playing flag football. Can you briefly describe to us how you got into this sport and what drew you to insist on it for so long?
AK: "Relatively, some flag football players have more experience than me. I came to this sport more than not by chance five years ago, when I hosted the then president of the Ljubljana Mustangs club Vicky Korelc (now married Lee) in my radio show. She "tasked" me to help her develop a program with the children, and so things started to unfold initially as a youth team coach, and then it came to a member of the first team, and so on. At some point, there was an agreed termination of cooperation where the path took me to the birthplace of my father Kočevje where I played for the Wild Hogs for 2 seasons, in the first season we "sensationally" won second place in the Slovenian flag football league (SFFL). A new path followed because Kočevje was a little remote for driving, the establishment of Ljubljana Frogs, and voila. Once you start playing this sport you instantly fall in love with it and without it your life is empty. Especially if you're good at it and have some talent. And the possibility of progress and showing Slovenia and the world that many things can be done professionally, although we are amateur athletes, is the driving force. Especially when you're surrounded by teammates who are like family to you. Then it's hard to stop and it will be hard once the acting days are over."
GH: As with any sport, in flag football, players retire one day. Do you already have any plans for what you want to do after the end of your flag football career? Do you want to continue working in this sport?
AK: "As I say, once you're involved in this sport, it's hard to get away from it. The key is to lay the healthy foundations of the club and pass on all the knowledge to others at some point and support them in building Ljubljana Frogs as a brand of the sports club. Then the plan is to pass on knowledge as a coach to new players so that they will string together successful results not only on the field but also in their personal lives and support growth and performance with a positive note and emphasis on social responsibility. Since I am a building block, I want to build a success story with a national team and qualify for the Olympic Games in Los Angeles in 2028. Be it with Slovenia, Croatia, Bosnia and Herzegovina, Azerbaijan, or where the path where my ancestors once walked takes me. The desire is to bring a national team from Micronesia to the World Cup and make the best teams have a hard time."
GH: In your years of playing you have competed against many clubs from different leagues. In your opinion, how is the Slovenian flag football league developing and how do you see the future of the league and clubs in the next few years?
AK: "The Slovenian league is developing as much as its resources and human capital allow. It could be better, it could be worse. According to experience, Slovenians are stubborn opponents of many teams in Europe, as evidenced by the Novo Mesto Knights with third place at the Big Bowl in Germany, the Wild Hogs with second place at the Bamboo Bowl in Germany, and the Killer Bees mini national team at Flagging New Year in Scotland won fifth place. My opinion is that any club from SFFL could play anywhere in Europe in the first league and would achieve enviable results. Also in BAFA (UK), which for my notions is the toughest league in Europe and I hope to taste playing this year there as well as a member of the Cardiff Hurricanes team. The girls from Domžale Tigers will also conquer Europe at some point. Despite our small size, we are once again proof that we have quite a bit of talent in our pool, it will only be necessary to use it wisely. For a step higher in development, the leaders of the ZANS will have to provide and train referees, as I believe that a player cannot judge a player biased and there will always be something controversial."
GH: Anyone who knows you knows you're a passionate NFL fan of the Raiders. How was this love born and how do you assess the difficult period that the club has been going through for several years?
AK: I choose all my teams based on colors, logo, and history. The only clubs without some tangible results are the Norwich city and the Los Angeles Clippers and whoever calls me a bandwagon doesn't know that I've lovingly hated lads since 1998. Then there are the Dodgers and the Raiders and New York Rangers. California loves a touch of the east coast. The NWA had a Raiders cap in their music video. And as a sports documentary fanatic, I spotted John Madden and Bo Jackson, saw what kind of history the franchise has behind it, and the love was and remains even though I saw it live in London against the Seattle Seahawks (as a gift for my fiancée's birthday) just one clinch field goal of his team (laughs). Everything needs its process and a good foundation and John Gruden has all the qualities to lead the Raiders to the Super Bowl at some point. They have to match the picks in the draft, the veterans in the FA and some trades, and of course QB. My opinion is that Derek Carr only has one more chance to prove himself next year. And so we also strive for Ljubljana Frogs. A long-term project with a young passer, young catchers, and veterans. You can be a national champion several times but it carries the most weight when you are the champion in the league that has advanced the most with the most possible teams. And I sincerely hope that SFFL will soon be joined by Maribor and Murska Sobota and that clubs in Koper, Velenje, Slovenska Bistrica, and Žalec will be revived."
Powered by Green Studio.