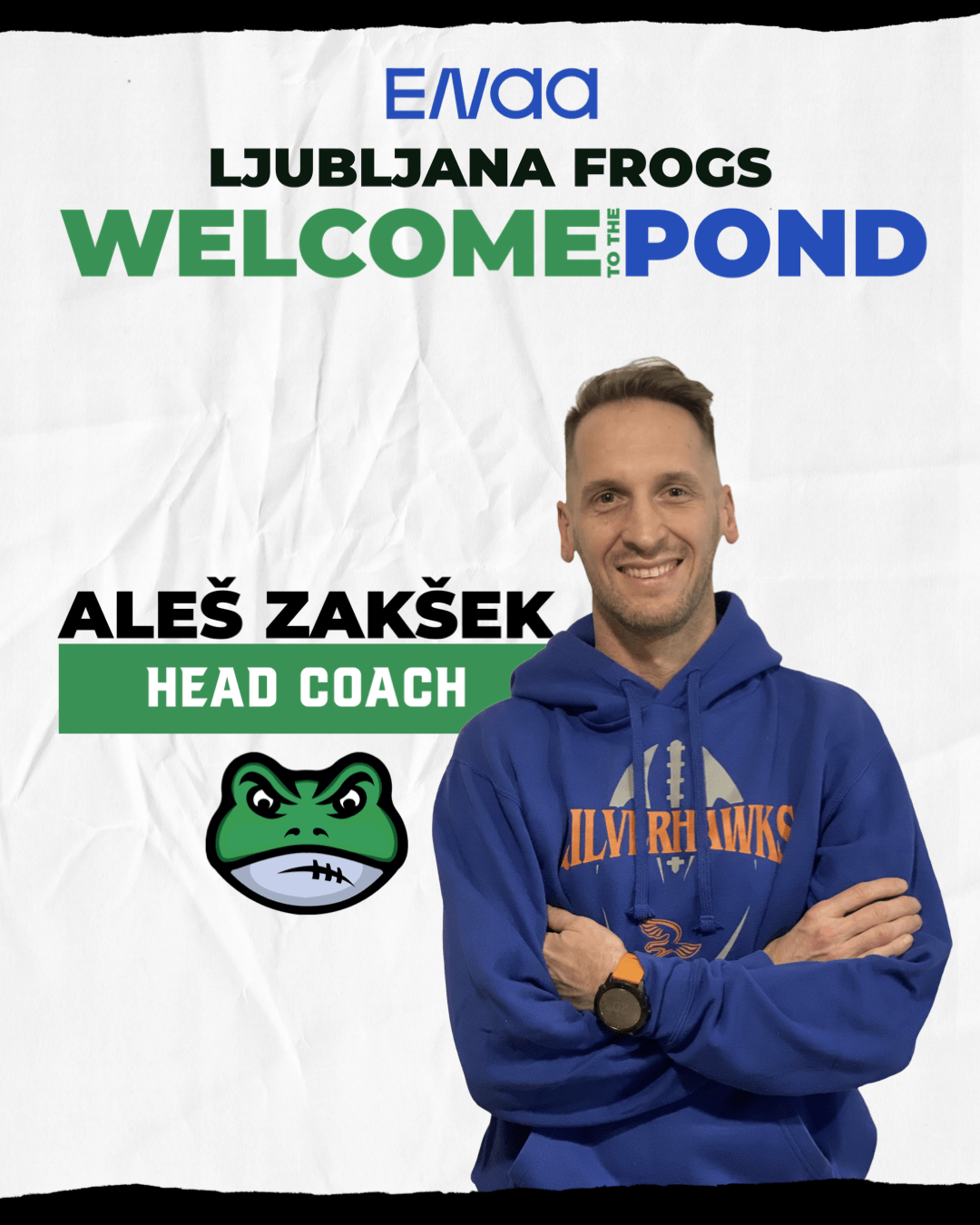 Aleš Zakšek is new flag football head coach of Ljubljana Frogs
Ljubljana Silverhawks used to be a synonym for American football in Slovenia and a powerhouse in Europe, which unfortunately burnt down. That Ljubljana deserves its place on the European map of American football is undeniable. We at Enaa Ljubljana Frogs have taken this project very seriously. In a long-term project drawn up by our board of directors, we will try to make a fairy tale out of ruin.
Ljubljana and Slovenia have always produced world-class athletes in American football. Thus, the onus is on Merlin and his "friend" the Ljubljana Dragon, to wake up these athletes from their hibernation and convince them of a new fairy tale, which is still an unwritten piece of paper.
Enaa Ljubljana Frogs is a club with a long-term vision. The first piece in the mosaic is Aleš Zakšek, the first flag football coach in Europe to be invested in with sponsorship funds, which will allow him to educate himself in this field continuously. He graduated as a sports coach from the Faculty of Sport in Ljubljana and will be paid every month for his work (according to our information, there is no paid coach for this sport in Europe yet).
The club's main goal is to raise the level of our game to a higher podium and to challenge and win the European throne.
In the next few weeks, we will be recruiting intensively to fill the gap left by the departure of some players who have found a new challenge in life. At Enaa Ljubljana Frogs, there are 20 players in Ljubljana and Slovenia who are capable of competing at the European and world level and possibly even at the 2028 Olympic Games in Los Angeles.
"Ljubljana Frogs is a young team, but it has already achieved visible results in the Slovenian flag football scene. With the desire to build on the good results so far - both at home and abroad, I am happy to join the team as head coach. It is no secret that my main goal will be to ensure that, through hard work, high discipline and unconditional respect, we reach a level of play that will allow us to compete with the most prominent European teams this season. I am aware that our primary goal, winning the national championship title, will not be easy to achieve, as there are quite a few bridges in Slovenia that have shown an exceptionally high level of play in recent years. Among the latter, I would like to point out both the Kranjska Jazbece and the Novomeške Knights. The Domžalski Tigers have also shown a remarkable improvement in their game and have become an excellent team.
So we have a lot of work to achieve our goals, which, with good work and sporting luck, are undoubtedly achievable. Fortunately, we have a nice pool of high-quality players in all playing positions. I'm talking about players who are the backbone of our team and who have been showing for several years that they are top-class athletes! Some of them have also played the classic version of American football, which in its way also shows that competitive flag football has already become a very competitive sport.I am honoured to have been allowed to lead such a team and I believe that we will be able to achieve our goals," said Coach Zakšek.
Coach, welcome to the team!