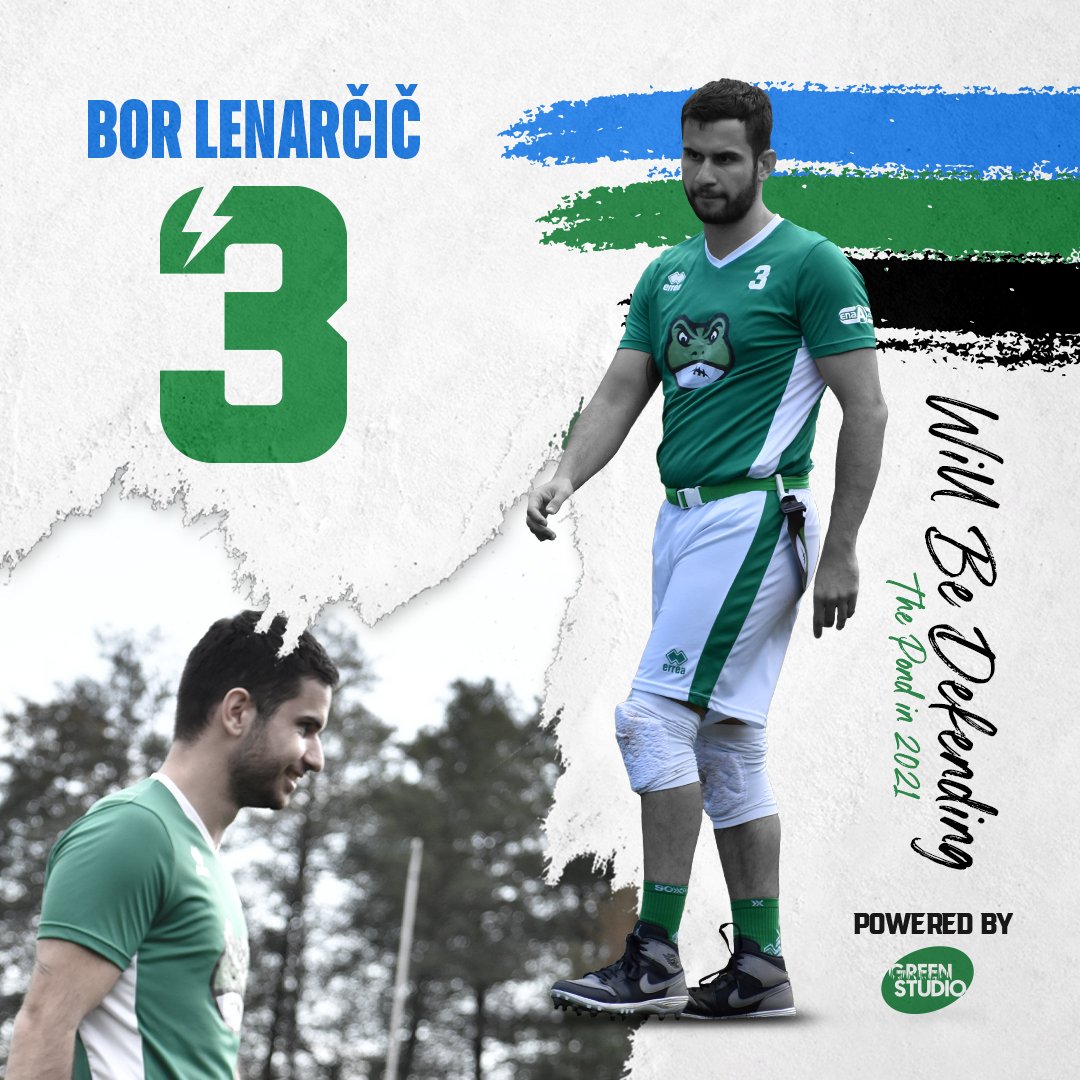 Bor Lenarčič will be defending our pond in 2021
GH: In your first match against the current national champions, you recorded an intercepted pass and in the following matches of the season you constantly improved your performances. How did a good start on your debut affect you and your performances later in the season?
BL: "Given the lack of experience and the difficulty of the opponent, the first match was really solid. Although I have experience in team sports, there was still some nervousness at the beginning of the season, but all that disappeared with every new tournament. On one hand, good performance and interception in the first game against Jazbeci had a good effect on my confidence, but on the other hand, it raised my expectations regarding my performances. I wanted to achieve more interceptions in the season, so at some point in the season I was quite disappointed, but luckily we have some experienced leaders on the team who have helped me very well in this. Then the performances started to improve and I think I improved my form very well, the peak of which would have come at the last tournament in Domžale, but it was unfortunately canceled. "
GH: Before the season, your goal was to learn as much as possible about the sport, and with your performances, you won a place among the 100 best players of the season. How do you rate your final stats in your debut season and where do you think you have progressed the most during the season?
BL: "In the end, I'm a little disappointed with the results of my first season, especially in terms of the drop in form in the middle of the season, due to some nervousness and minor injuries. I wanted to get more interceptions, which is one of my main personal goals for next season, to improve this element of the game. However, I am very pleased with my progress during the season in non-statistical aspects of the game. I think I made great progress in understanding the game and decision-making, for which I can thank my teammates, especially Aljoša Kous and our last year's coach Aleš Makuc. "
GH: Like many of your teammates, you only became seriously involved with flag football for the first time in 2020. Which element of the game caused you the most problems at the beginning or did you find yourself without any problems?
BL: "Because I trained both basketball and football beforehand, where you see the ball most of the time in defense, it was strange to me because you do a lot of coverage with your back to the ball. I did pretty well at pulling the flags, fortunately, that didn't really cause me too much trouble. "
GH: In your position, you represent great potential, which some consider being suitable for the national team as well. Do such ratings put additional pressure on you, which comes together with high expectations for a second season in the SFFL?
BL: "These are quite optimistic estimates of my potential, but I hope I don't disappoint these people (laugh). Such assessments are, of course, some additional pressure, but they represent extra motivation, so I hope it will only help me achieve these high-flying goals. However, I am always my own biggest critic, because I have set very high goals for myself. "
GH: Frogs are known for a great team atmosphere and chemistry, which is evident both on and off the field. To what extent does the chemistry in the team contribute to the game, especially in situations where the game is not going as planned?
BL: "Team atmosphere and chemistry are key to achieving goals. Without this, success, in the long run, is virtually impossible. In our team, we had great energy most of the time, especially when we performed well in games. However, there is still room for improvement precisely in situations where the game is not going as planned. However, I would like to praise the attitude of the whole team and the atmosphere at the last tournament in Kočevje, where we really showed excellent chemistry in the match against the Tigers, where they gave us our worst defeat. "
GH: You play in defense, as a defensive back. If you could test yourself in any other role on the pitch, what position would that be and why?
BL: "Since I've always been in charge of scoring points on the basketball court, I still have that very strongly imprinted in my competitive spirit. Therefore, I would be happy to try out as a wide receiver."
GH: In addition to flag football, you are also a big fan of NBA basketball. What is your favorite team and what is your "early prediction" for this year's final?
BL: "Ever since Derrick Rose stepped on the floor in Chicago, I've been a passionate fan of the Chicago Bulls. Unfortunately, there hasn't been much reason to be happy lately watching their results (laugh). My early prediction for the final would be the LA Lakers against the Milwaukee Bucks. It's high time the Bucks put together a good playoff result."
Powered by Green Studio.