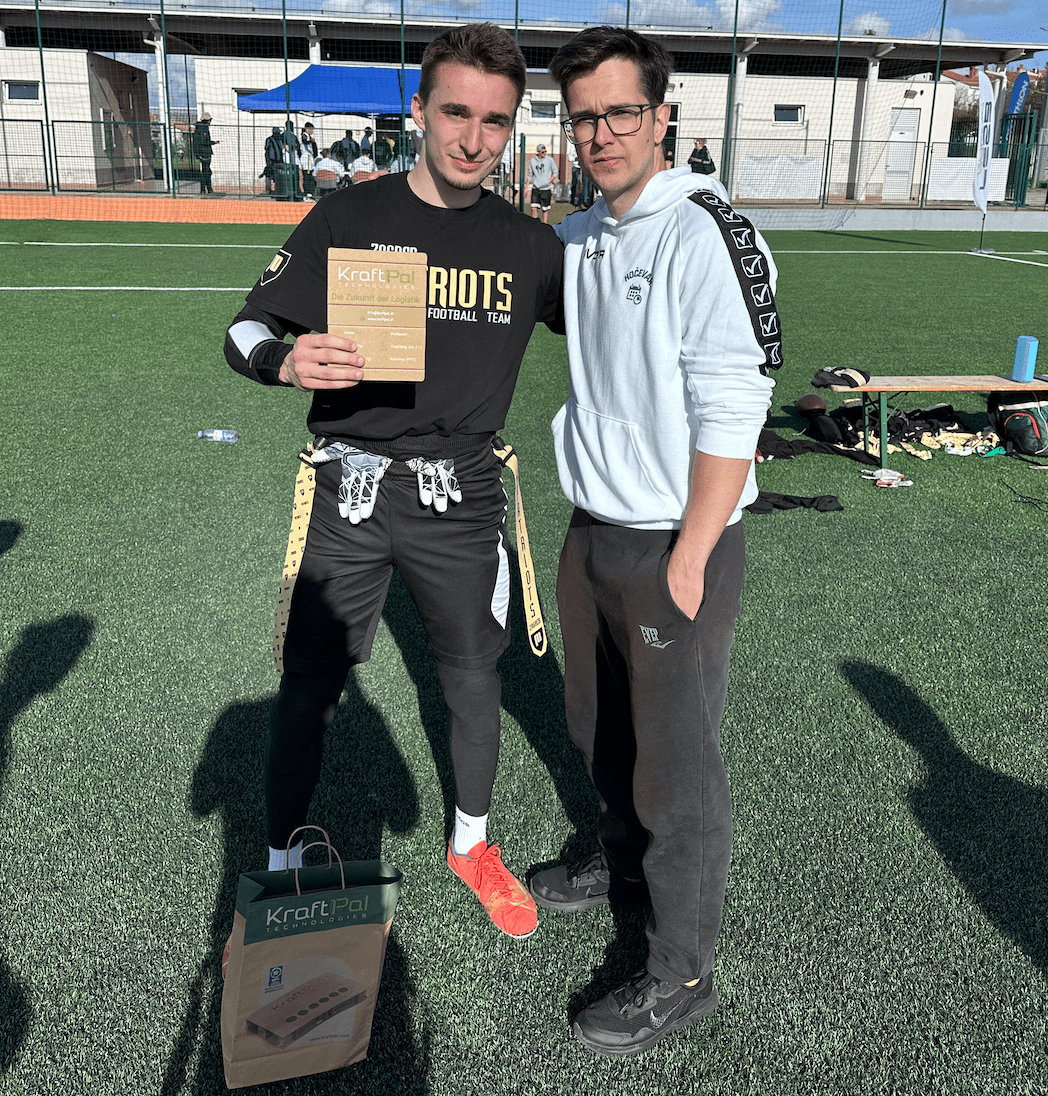 KraftPal Technologies is a proud sponsor of Ljubljana Frogs Flag football
It's been an amazing 100 years of breakthroughs in material handling and logistics — except for one key, essential part: the basic wooden pallet, which hasn't changed a bit since the first forklift lifted that first wooden pallet in the 1920s. Today, the wooden pallet is just as heavy, just as dirty and unhygienic, and as hard to recycle as it was 100 years ago. But now, it's also causing far greater damage than ever to the environment.
Here's why. Over a third of the 5.3 billion wooden pallets made each year are for one-way use, then disposed in landfills or just left as debris to further pollute the land. Worse, each year, hundreds of millions of trees are harvested to create those one-way wooden pallets, trees that would otherwise remove billions of tons of CO2 from the environment. A century ago, no one could have imagined the harm that the simple, basic wooden pallet would cause to the environment, and the world.
But a new day and a new pallet have arrived, thanks to the KraftPal Corrugated Cardboard One-Way Pallet that's as advanced as everything else about today's material handling and logistics. It's the perfect pallet for one-way use. For more information about the product you can contact [email protected].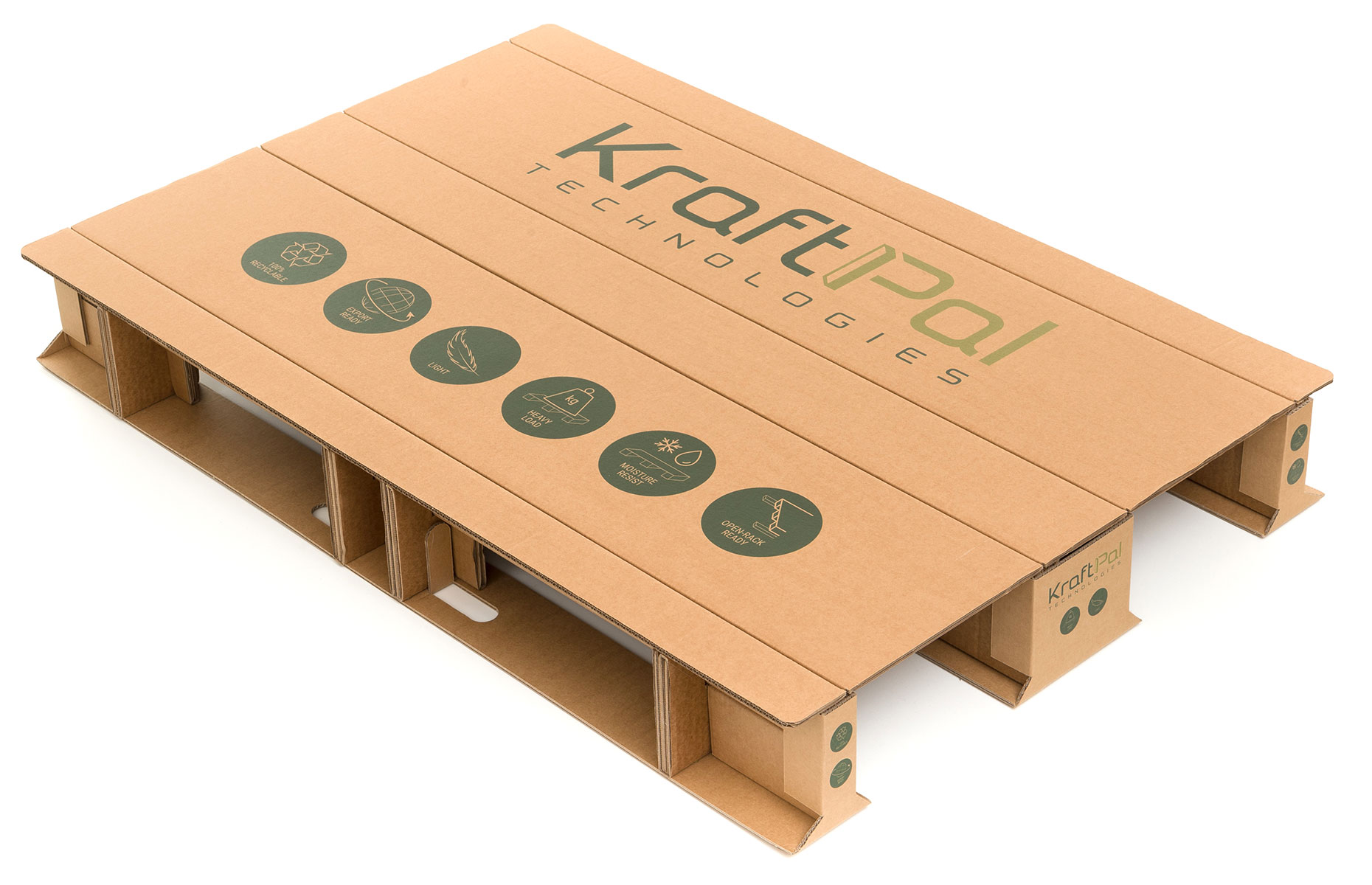 https://www.kraftpal.com/products-and-solutions/#corrugated-cardboard-pallets

First, KraftPal Pallets are a full 80% lighter than wooden pallets, which drastically lowers both fuel costs and CO2 emissions. And because they're 100% corrugated, they're 100% recyclable, going straight into the cardboard recycling bin after its oneway usage. And because they're made of cardboard, they're 100% hygienic. They're also, moisture resistant in controlled environments, and even provide 80% better shock absorbency than wooden pallets.
But what's even more impressive about KraftPal Corrugated On-Way Pallets is how incredibly strong they are, able to support a static load of four-and-a-half tons. That's due to their unique, patented X-Frame construction that's accomplished by the Palletonator, the world's most sophisticated automated production line, comprised of over 15,000 high tech elements, each one helping the Palletonator to produce a KraftPal pallet in just seconds — and millions of them per year. Plus, because production can be totally customized, it can produce pallets specifically to meet any customer's needs.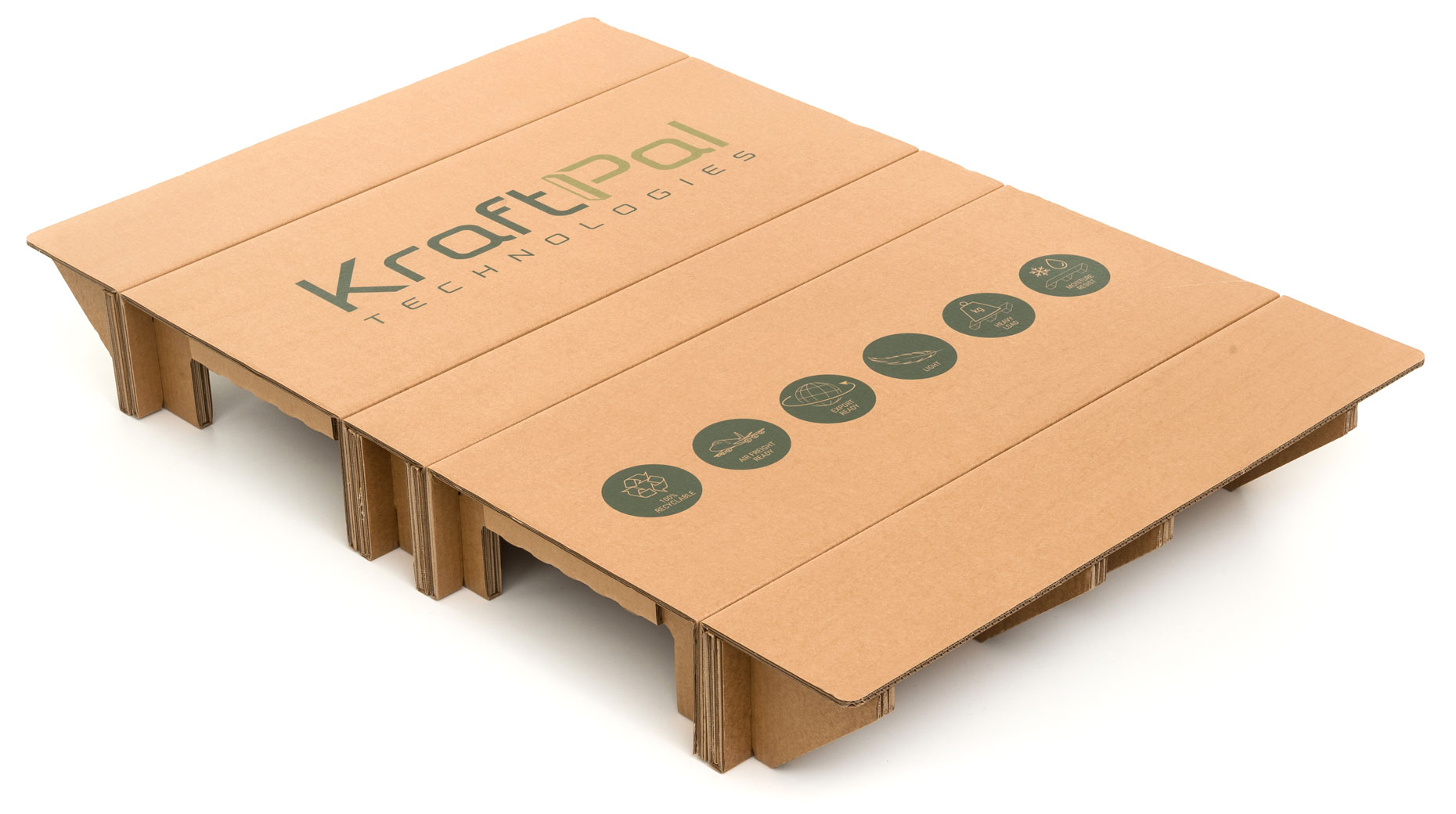 https://www.kraftpal.com/products-and-solutions/#corrugated-cardboard-pallets

And with Pasaca Capital making the single largest financial investment in the history of pallet manufacturing, KraftPal will be building 60 fully operational Palletonators by 2026. All to satisfy the world's demand for the pallet that's changing the industry. Best of all, switching from yesterday's wooden pallets to KraftPal Corrugated One-Way Pallets can take just a day.
There's no new equipment to buy, no special training, no slowing down of operations. You can enter the future of modern pallets overnight. KraftPal Corrugated Pallets. The only pallet as advanced as everything else about today's material handling and logistics. The future has arrived, on a KraftPal Pallet.

KraftPal Technologies and the Ljubljana Frogs Flag Football Club have joined forces to pursue a shared objective: merging visibility and social responsibility from their respective realms. In the upcoming year, the Flag Football World Championship will take place in Lahti, Finland, coinciding with KraftPal Technologies' recent establishment of a local production unit in Lempäälä. Remarkably, as KraftPal Technologies expands its operations to California, USA, it aligns harmoniously with the American sport of flag football. Recognizing this connection, both entities envision themselves as sponsors and partners in this sport and community, while introducing corrugated cardboard pallets as a superior alternative to traditional wooden one-way pallets. Although flag football and corrugated cardboard pallets have yet to gain widespread recognition, this collaboration intends to bring about a swift transformation in public awareness.
If you have any question you can write to them t or [email protected] email.