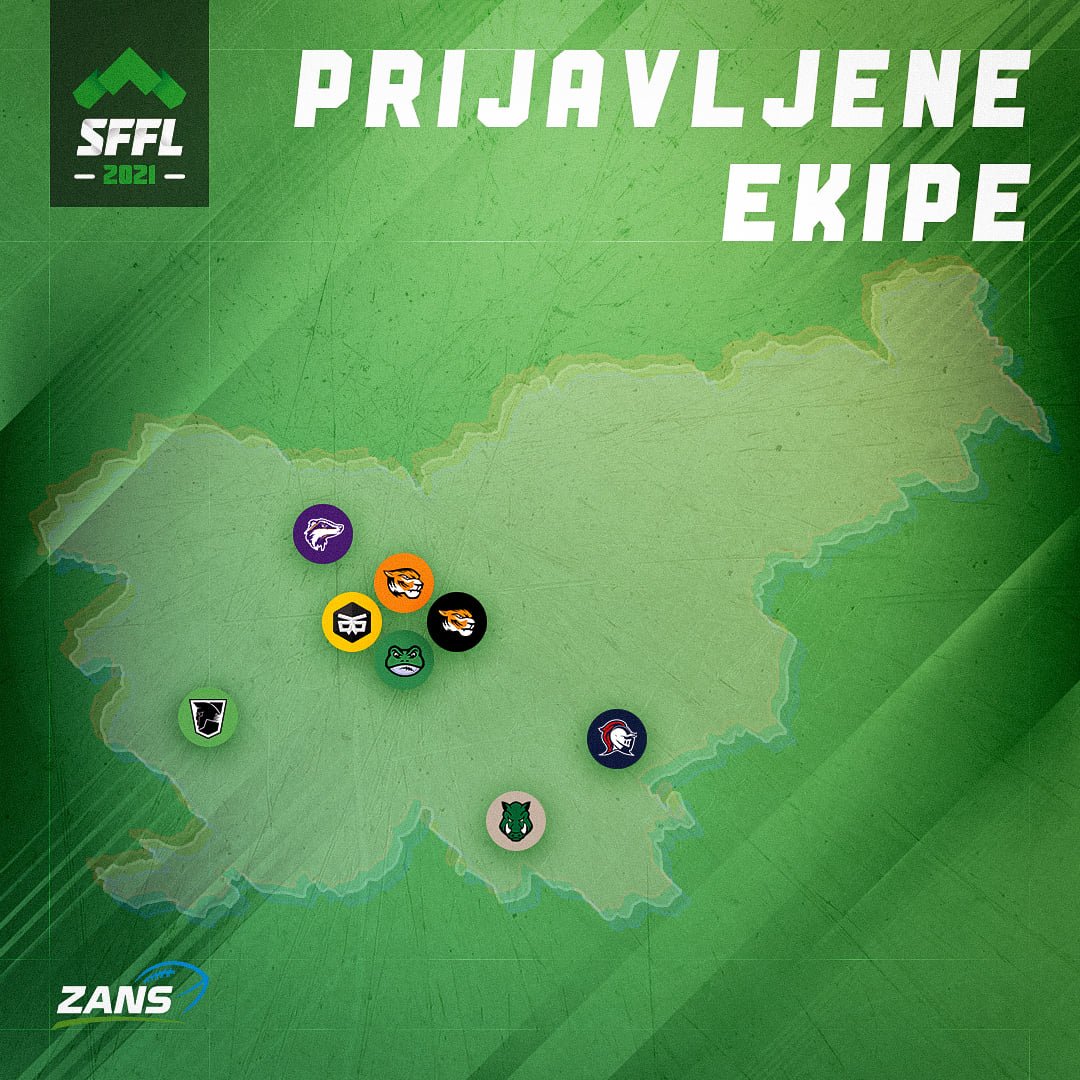 LJUBLJANA FROGS FLAG FOOTBALL SFFL OPPONENTS.
So, we were looking forward to who we will fight for the title of national champion this year as we know Ljubljana Frogs flag football opponents in the Slovenian flag football leauge. 8 teams have registered for this year's Slovenian Flag Football League. A slight surprise is in the non-registration of the Underground Raptors, who started their Flag football career last year, but we quietly wished that the East would also develop and add a representative. This year, Slovenska Bistrica Werewolves, Maribor Generals and Murska Sobota Storks are not on the map. Too bad they might overestimate the potential this season and join the league next year which would be fantastic for league and sports development.
This season, the title of national champion will be defended by Kranjski Jazbeci, and OMP Knights Novo mesto will try to take the reins into their own hands after two unfortunate finals. Our city rivals Ljubljana Killer Bees will try to keep their third place and last season where they will be threatened by Domžale Tigers and try to take the medal. Domžale Tigers will have two teams this year. Then there are the sons of the bora Ajdovščina Gladiators, who will try to blow away and surprise some leading team, and LAZAR Wild Hogs Kocevje, who will try to record a victory more than last year and gain a place in the final tournament. The flag football league is still going to be interested.
We in Ljubljana Frogs flag football have big appetites in this year's flag football season. We want to improve on last year's ranking when we found ourselves in 5th place. This year we are aiming for the top 3. Darko Mićić is slowly developing into a real franchise Quarterback, which, in addition to blitzer, is the most important position in the flag football team. This year we decided to replace both captains of the flag football team Ljubljana Frogs. The captain of the attack was # 23
Žan Ocvirk
, and the captain of the defence will be # 31
Aljoša Kous.
There will be 6 tournaments (locations not yet known). Once the rosters are known to the team, we will write an analysis, just like last year, and present the biggest dangers that will shine in the SFFL.
But let's still remember a little information from last season.
1st place: Kranjski Jazbeci
MVP SFFL: Gregor Hertl (Ljubljana Killerbees)
Pass TD: Jernej Pavlic 99 TD (Domzale Tigers)
Receiving TD: Gregor Hertl 50 TD (Ljubljana Killerbees)
Rushing TD: Žan Ocvirk 4 TD (Ljubljana Frogs
Defensive TD: Gregor Hertl 5 TD (Ljubljana Killerbees)
Interceptions: Luka Kotnik 16 INT (Domzale Tigers)
Sacks: Matevž Šilar 23 sacks (Kranjski Jazbeci)
Tackles: Kristijan Čebulj 91 tackles (Underground Raptors)
You can read more information at www.ljubljanafrogs.si