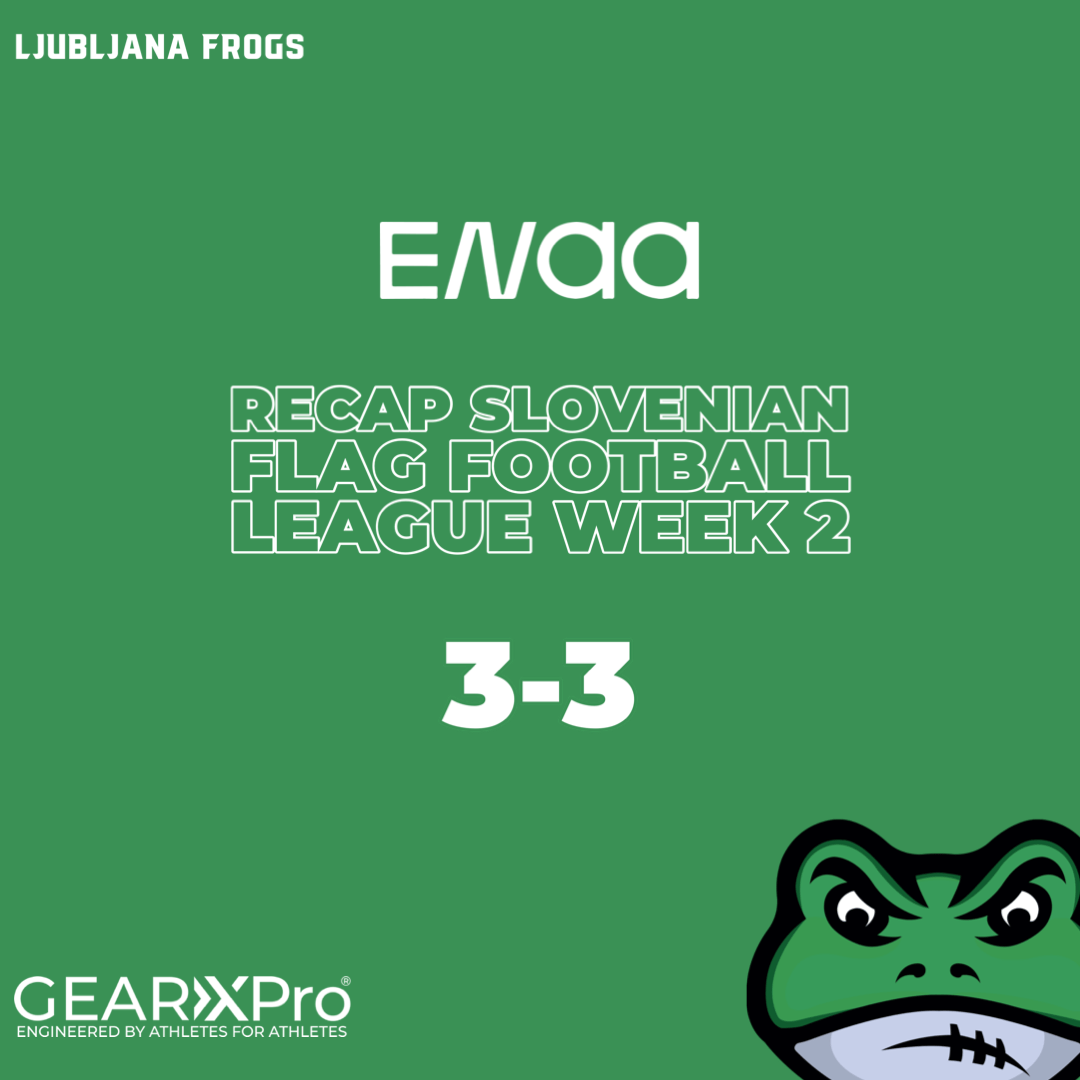 Ljubljana Frogs Recap Slovenian flag football league week 2
In the second week of our Slovenian flag football league, my team, the Ljubljana Frogs, had the opportunity to compete against three different opponents.
Our first game was a tough one, resulting in a big blowout loss against the Velenje Black Miners. The final score was 13-45, and the Black Miners, led by our former coach Makuc, who had joined their team, dominated the entire match. Karsten Opraus, the quarterback for the Black Miners, impressed everyone by throwing seven touchdowns. Despite the challenging circumstances, we managed to score through the efforts of Aleks Bordon (also a sack) and Marcel Medvešek, who each recorded a touchdown. Gašper Bajt threw two touchdown passes but also endured one sack. Kous Godec the dynamic duo in defense (over 100 tackles together last year) combined for only five tackles throughout the game.
Moving on to our second game of the week, we faced a close defeat against the Novo mesto Knights, with a score of 19-25. I, Gašper Bajt, the Frogs' quarterback, had a better performance in this game. He threw three touchdowns and only had one interception. Arbanas and Kous both contributed with one touchdown and four tackles each. Bordon also scored a touchdown, while Godec added five tackles. Marcel Medvešek recorded one point after and two tackles, and Cegnar made a tackle as well.
Fortunately, in our third game, we managed to bounce back with a resounding victory over the Ajdovščina Gladiators, winning with a score of 29-12. It was Aleks Bordon's moment to shine as he had an outstanding performance, making a significant impact in every aspect of the game. He recorded three sacks, two touchdowns, two tackles, one interception, and even catch point after for two points (from 10 yard line). Bordon became the only player on our team to achieve such a feat in a single game. Godec also had an impressive game, contributing with eight tackles and interception return for a touchdown (pick6). Kous added one touchdown, one pass attempt for one point, and three tackles. Arbanas recorded two interceptions, four tackles, and one PA1. Marcel Medvešek made one sack, one tackle, and point after. Overall, as a team, we scored three touchdowns, recorded four interceptions, achieved one pick-six interception, made 21 tackles, and had four sacks.
Although we suffered a significant loss in our first game of the week, we demonstrated resilience in our subsequent matches and managed to secure a well-deserved victory against the Gladiators. We have to give credit to Aleks Bordon, who truly stood out as the standout player of the week. He displayed exceptional versatility and skill in all areas of the game, making a significant impact on our success. As we move forward, our team, the Ljubljana Frogs, will build on our recent achievements and continue the season with renewed determination and a strong desire to succeed.