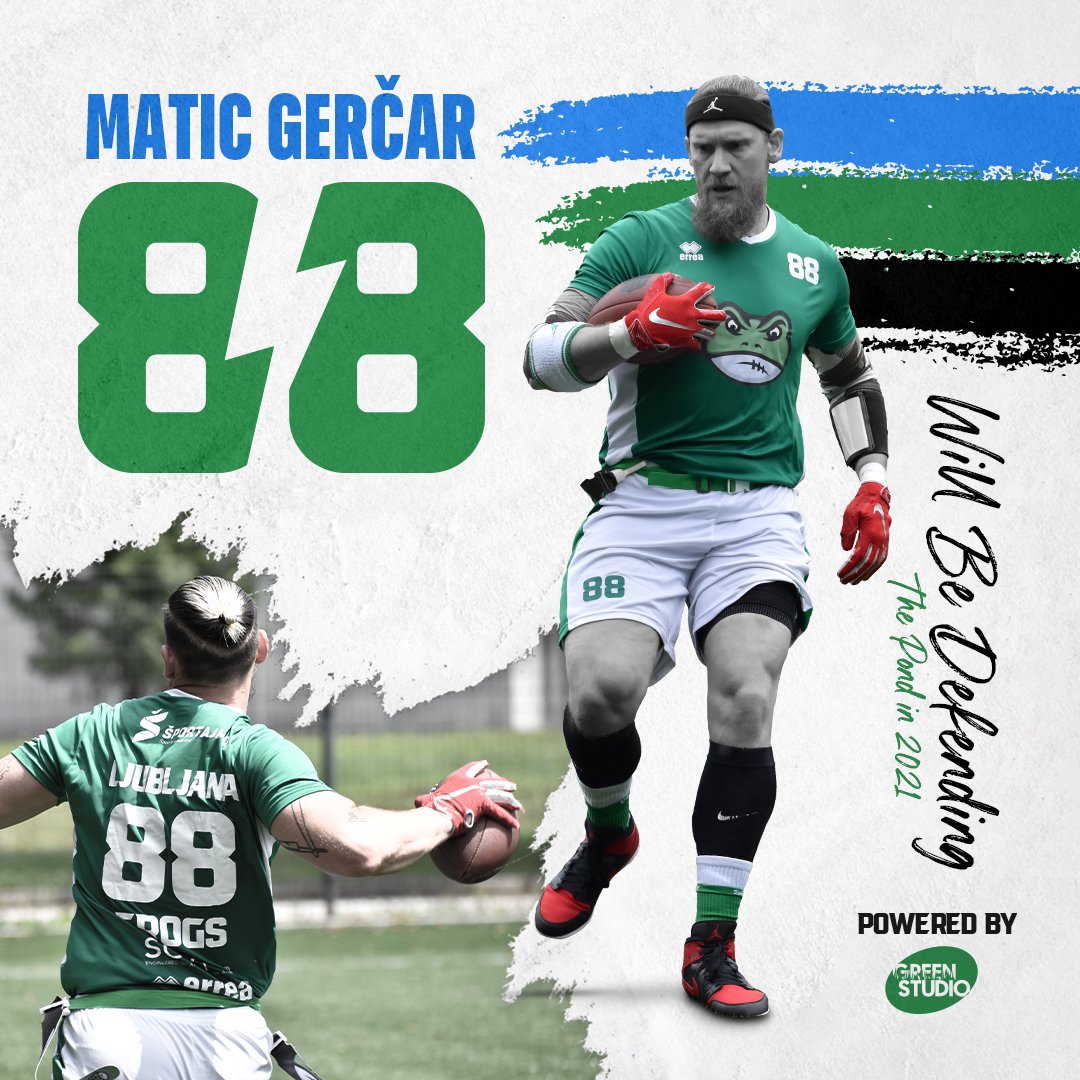 Matic Gerčar will play another season with Frogs
GH: With your height, you are a player who is hard to guard, which helped you to amazing 17 touchdowns and 13th place between all receivers in the league. Share with us your insight on the finished season, your end-of-season stats, and the performance of the team.

MG: "Height and weight definitely contribute a lot to my game and I try to use that as an advantage. About the team performance, I think we did very well for the first official season. Of course, it could be better and I know that we have tremendous potential to improve as a team, and as an individual too."


GH: Before you joined the Frogs, you had plenty of offers from other flag football teams. Do these teams concentrate on giving you "special treatment" on the defense?

MG: "Yes, that is true. There were multiple teams that wanted me to play for them. I wouldn't say that these teams give me special treatment because I think all teams give me one (laugh). Obviously, that's a good thing, because in this way, I can help the team, so my teammates have more space on the field."

GH: Just like your idol Dennis Rodman, you too excel with unbelievable hustle on the field. Which other attributes would you say are your strongest weapons in the battle against the defense?

MG: "Dennis Rodman is a big idol of mine. He knew what his job was, to help the team and he usually succeeded in that, so I try to do the same. Facing defensive players, I get a lot of motivation by being fearless, which I got from exposing my head to the ball as a handball goalkeeper. And of course, fighting for every ball that goes flying my way."

GH: On the field, you love situations where you are guarded by multiple defenders at the same time. Does the difficulty of these situations motivate you even more or would you rather see that you find yourself in easier situations more often?

MG: "As I mentioned, that's just an advantage for my teammates. Of course, it motivates me additionally and because of that, those situations are all the sweeter after a completed pass. And it's a bonus, because you put some more motivation on your whole team."

GH: For years, you have been a successful handball goalkeeper, with European experience from France. In a few words, can you share with us how was life in France and do you already miss playing handball?

MG: "Playing handball abroad was incredible for me. A lot of new acquaintances, experiences, and great memories. That's why I don't just miss handball, but all the things you get to experience besides playing. There is still a lot of passion for playing handball, especially now that I'm coming into an age that is the best for goalkeepers."

GH: We often hear that goalkeepers in all sports are a special breed of people because they let themselves get hit by a ball voluntarily. What is your view on that, and what convinced you in the past, that you decided you want to become a goalkeeper?

MG: "Yes, there are such rumors and I can confirm them (laugh). Who could be so crazy to earn his living by exposing his head and body to the opponents' shots? Why goalkeeper? Because I had a bit stronger physique and I didn't want to run (laugh). But truth be told, it was also because my father was a goalkeeper."

GH: In addition to all your roles in life, you are also a barber. Has any of the teammates asked you for a new haircut and what was the weirdest haircut you ever did?

MG: "Quite some teammates tried out my barber chair and they all keep coming back. As for the weird haircuts, I think I probably experimented the most on my own head (laugh)."

Powered by Green Studio.