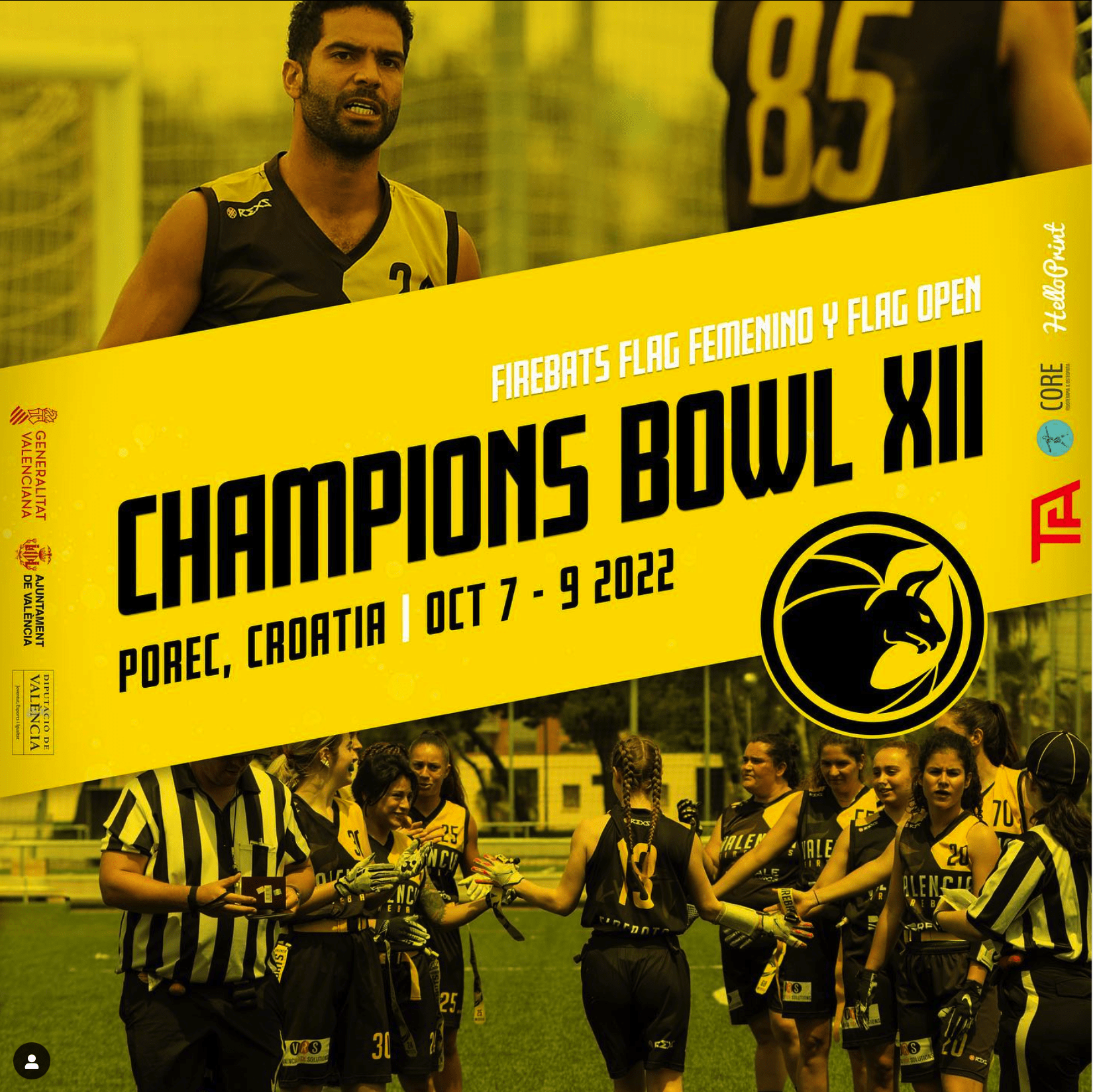 Valencia Firebats the Championship bowl 2022 champions
This weekend, the Flag Football Championship Bowl will take place. The crème de la crème of teams from the old continent will compete in Poreč, Croatia. Among the 16 teams from different countries will be the Slovenian representative Kranjski Jazbeci. Although we are rivals on the field, we will be rooting for them this weekend because, with a good placement at the Championship Bowl, they can open the door to such a prestigious competition for the Ljubljana Frogs.
The 16 teams are divided into four groups A-D. Germany and Italy have the most representatives with 3 each; the United Kingdom has 2 representatives, Slovenia, Croatia, Serbia, Spain, Switzerland, Denmark, Sweden and France have one representative each.
So in group A will play French champions Sphinx De Pau, Italian champions Arona 65ers, Swedish serial champions Uppsala 86ers and Welsh champions Cardiff Hurricanes. This is also the group of death, and it is difficult to predict who will finish first in Group A. All teams have many national players, so it promises to be an interesting game.
Group B will feature the Italian team Refoli Trieste, the ASVZ Blackbirds from Switzerland, another Italian team Roma Raiders, and the Kelkheim Lizzards from Germany. We expect Refoli and the ASVZ Blackbirds to advance in this group, but both the Roma Raiders and the Kelkheim Lizzards should by no means be written off.
Group C will be very interesting, especially because of the Slovenian representatives, the Jazbets. We expect good games, especially from the duo Lebar-Zlajpah, who caused the most surprises in the SFFL final. Facing the Jazbets are Walldorf Wanderers, led by Benjamin Klever and Jerome Saxon, who used some players from the German national team last season. Valencia Firebats are the reigning Spanish champions with a QB from the national team, a team with a lot of international experience, and the last team is Orlovi Novi Belgrade, which with a somewhat rejuvenated team and with our undisputed player Aleksa Stanic, who has been prevented from COVID -19 the last three seasons, has no realistic chance to be among the top 8 teams.
In the last D, group will play London Smoke, a team with a flattering record, and Herlev Rebels, the only Danish representative (last year's winner Allerod Armadillos cancelled at the last moment), who wants to defend Denmark's "supremacy" in this kind of competition. Munich Sparrows, the third German team and reigning German champion, will have a very difficult task as the players and the "home team" Split Sea Wolves, the Croatian representative who beat us twice in two games, most recently in another home tournament, Adria Bowl, in the third place match, will want to punch their ticket for the fight for the top places.
The Valencia Firebats won, beating London Smoke in a spectacular final. Third place went to Walldorf Wanderers, who beat Munich Spatzen in the third place match.