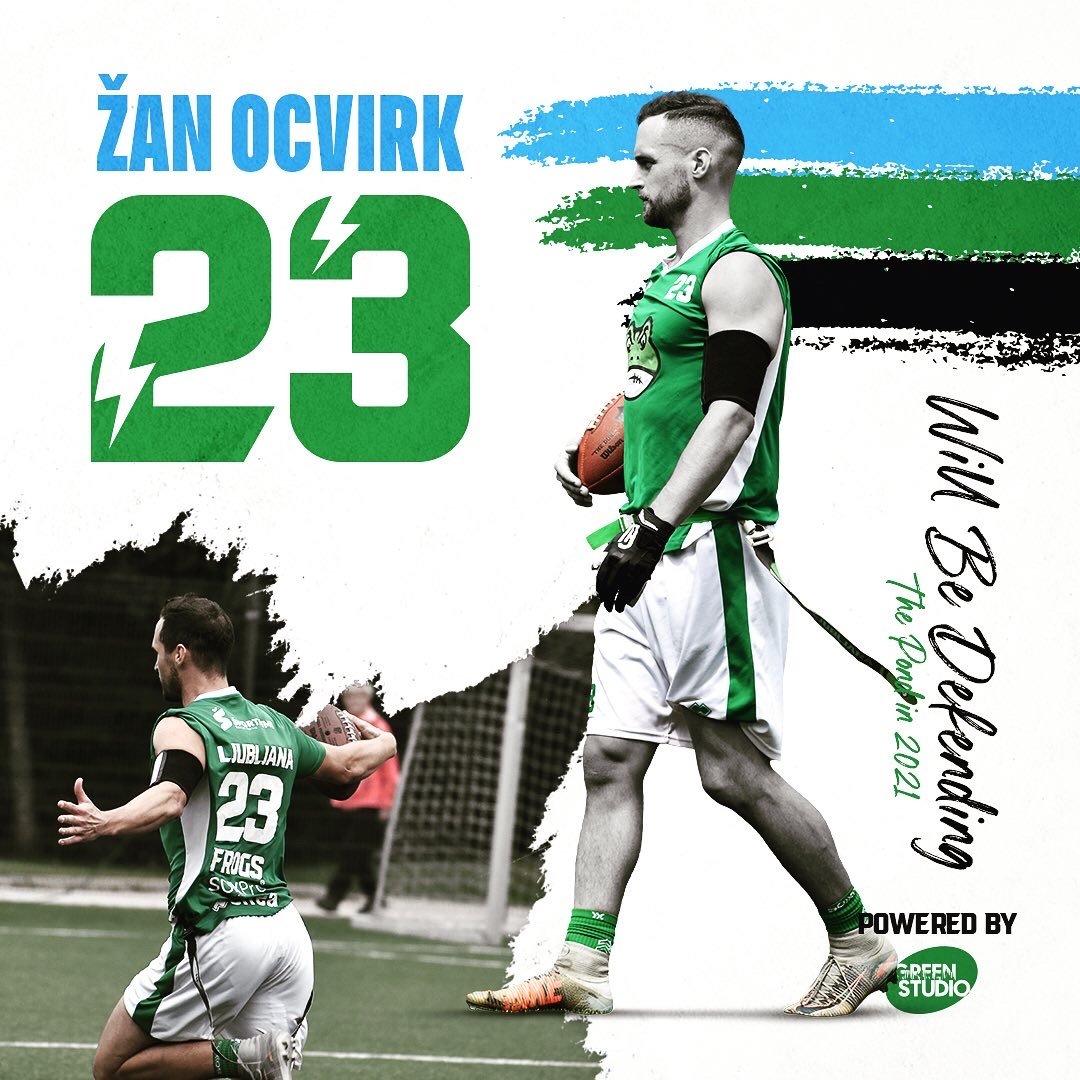 Žan Ocvirk will be defending the pond in 2021.
GH: You showed great performances in all aspects of the game this year, and you finished the season with 15 touchdowns and were 14th among all receivers in Slovenian flag football league. What are your feelings after such a great performance, which predicts a lot for the next season as well?
ŽO: "Thank you! Feelings are great as I didn't know what exactly to expect before the season. Considering that it was the premiere season for me (I only joined the team in May, after the first lockdown was over), it took me a while to even get to know the rules of the game, what I can and can't do to catch up with the guys on the team, but that went pretty fast because they're all great. With every game, things became clearer to me, so I'm sure I'll explode on the field this season. "
GH: With 4 rushing touchdowns, you were also the best rusher of the league. Is the speed enough for successful "rush" plays and, in your opinion, what else is an important factor that contributes to the success of rush plays in flag football?
ŽO: "Speed ​​alone is not enough. It's necessary to read the game, observe the position and movements of the defense and, as quickly as possible, look for holes where you can break through to the end zone. Plays like these are the hardest, but they are a special challenge for me, so I enjoy them the most.
GH: You've played in practically every position this season and because of your versatility, it's a pleasure to watch you on the field. Where did you have the most fun this year and in which position would you like to test yourself more often next season?
ŽO: "Like I already mentioned, I preferred to run with the ball in my hands. Because of that, my teammates started joking in the sense of 'run Forest, run!' (laugh). I also tried to play as a QB and as a blitzer in defense, so next season, I want some more time in the defense. Of course, the coach will assess in which position I can contribute the most to the success of the team."
GH: Despite your exceptional speed and judging by the posts on social media, some teams think they have players in their ranks who are faster than you. How do you comment on that and can we expect a race this season that will prove who is the best rusher?
ŽO: "I don't follow what other teams post on social networks, nor do I get into those debates. I let my game speak for me. Lead by example is the motto by which I play and work in sports in general."
GH: In your free time, you are also the coach of the junior selections at KK Vrani Vransko. Have you ever considered trying out as a flag football coach after your playing career?


ŽO: "Coaching junior teams in my home club is my mission, which I enjoy immensely. Given that I'm still learning flag football myself, I don't feel competent to teach others, but maybe someday."
GH: You and your brother founded the Vrani Vransko basketball club years ago. How did this come about and how do you look at this project now, many years after its inception?
ŽO: "It's true. We founded Vrani in 2007, and now the 14th season is running! It is important for both, my brother and me, to progress every year as a club and we are successful at that (the exception, of course, is this year's season, which ended before we even started). For several years now, there has been a great emphasis on the younger selections, so we have over 100 children in our younger teams! If you work with your heart and are persistent, the results come. I notice a similar spirit in Aljoša and the Frogs, who invest a lot of time and energy in the operation of the club. The recipe for success!"
GH: You're a big fan of NBA basketball, and the number 23 you wear is a tribute to Michael Jordan. What's your view on debate about the best player of all time between Jordan and James, and which side would you take and why?
ŽO: "I was mainly a fan of NBA basketball in the 90s. I don't like today's game and the 'hoarding' of statistics, there is not enough fighting, the passion in the players… Every real basketball player knows that this is a debate that should not be that at all. Far ahead of everyone is MJ, the one and only. How the others follow each other, however, is a matter of debate."
Powered by Green studio.